How Long Does It Take For A Dog Bite To Heal?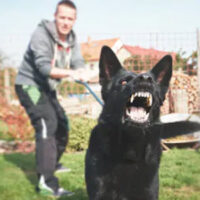 If you are attacked by a dog, you may wonder how long it will take for the dog bite to heal. Regardless of whether or not your skin was broken as a result of the dog bite, it is advisable to seek medical attention right away.
A doctor will determine the extent of your injury, whether rabies shots are needed, and prescribe the medication and treatment to help you recover. If you have been bitten by someone else's dog in New Hampshire, you might be entitled to compensation for your financial losses and damages.
Consult with a Manchester dog bite attorney to talk about the details of your case and determine whether or not you can recover damages from the owner of the dog that attacked you.
When Will Your Dog Bite Heal?
According to the Centers for Disease Control, one in four dog bites require medical attention. In most cases, a dog bite will heal within about 10 to 14 days of the attack. However, serious dog bites may take longer to heal.
If your dog bite is severe enough, you may require medical treatment, including stitches or even surgery, to fully heal. After a dog bite, do not hesitate to see a doctor if you notice any of the following signs as the bite heals:
Swelling
Redness
Excessive sensitivity to touch
Drainage from the wound
While these symptoms may be part of the normal healing process, especially in the first days after the dog bite incident, it is best to double-check to be on the safe side. Seek medical attention if you have reason to believe that the dog that bit you had rabies.
Can You Receive Compensation for Your Dog Bite Injury?
As your dog bite injury heals, you should contact a skilled attorney to discuss your options for compensation. In New Hampshire, dog bite victims are entitled to compensation even if the dog had no history of viciousness, aggressiveness, or attacks in the past.
Unlike other states, which follow the "one free bite" rule, New Hampshire imposes strict liability on owners of dogs. N.H. Rev. Stat. Ann § 466:19 provides that victims of dog bites can hold the owner/keep of the dog liable for losses and damages they incur as a result of the attack.
In other words, you do not need to prove that the owner was negligent or failed to control their dog to prevent the bite. There are some exceptions to New Hampshire's strict liability statute (such as if the injured party was trespassing, committing a crime, or other wrongdoing at the time of the incident).
What Damages Are Available After a Dog Bite?
If your claim for compensation is successful, you can seek compensation for the following damages and losses incurred as a result of the dog bite injury:
Medical expenses
Loss of income
Diminished earning capacity
Disfigurement
Permanent scarring
Other economic and non-economic damages
The amount of money you can recover depends on many factors, including the severity of your injuries and the amount of time it takes for your dog bite to heal. Speak with our attorneys at the Law Office of Manning Zimmerman & Oliveira PLLC to determine which types of damages are available in your case. Call 603-624-7200.
Resource:
gencourt.state.nh.us/rsa/html/xlv/466/466-19.htm
cdc.gov/mmwr/preview/mmwrhtml/mm5226a1.htm