Attorney Michaila M. Oliveira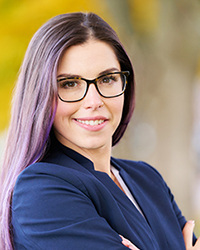 Law Degree from the University of New Hampshire Franklin Pierce School of Law and Bachelor of Arts Degree from Northeastern University, summa cum laude
Areas of Practice:

Personal Injury: All areas of personal injury litigation, including automobile accidents and wrongful death cases.
Family Law: All areas of family law, including divorce/separation, parenting rights of unmarried parents, same-sex divorces, military divorces, post-divorce modification and enforcement, restraining orders, and child support matters.
Personal Injury & Family Law Attorney
Attorney Michaila M. Oliveira is a graduate of the prestigious Daniel Webster Scholar program at the University of New Hampshire School of Law. During law school, Michaila served as a judicial intern with the New Hampshire Family Division in Manchester, a student attorney with the Consumer Protection and Civil Litigation Clinic, and an intern with our office. Michaila focuses her practice on all areas of family law and personal injury law. She is admitted to practice in New Hampshire federal and state courts.
Michaila is the author of the November 2017 New Hampshire Bar News article "Negotiating Survivor Annuities in NH Divorces" and was the prevailing attorney in Case No. 2018-0167, In the Matter of Regina Gagne and Paul Gagne, a divorce matter which was appealed to the New Hampshire Supreme Court.
When she's not working, Michaila enjoys baking, kayaking, and curling up with a good book. Michaila grew up in southern Massachusetts where her family still resides.
Member of the N.H. Legal Community
Michaila is an adjunct faculty member with the University of New Hampshire Franklin Pierce School of Law where she teaches legal writing and analysis to first year law students. She is currently a member of the Board of Directors for the Manchester Bar Association, as well as a member of the New Hampshire Bar Association, the New Hampshire Women's Bar Association, the American Association for Justice, and the New Hampshire Association for Justice. She also serves as an adviser for the University of New Hampshire chapter of Kappa Delta Sorority.
You can reach Michaila by Email or by phone at 603-624-7200.