Maureen Raiche Manning of Counsel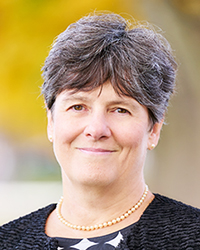 Bachelor of Arts Degree: University of New Hampshire, 1983
Law Degree: University of New Hampshire, Franklin Pierce School of Law, 1986
Areas of Practice: Personal injury, workers' compensation and wrongful death.
An Experienced Trial Attorney
Maureen Raiche Manning is an experienced trial attorney with a proven record of success representing injured victims. Maureen's practice includes representing her clients in New Hampshire federal and state courts. She is a lifelong resident of Manchester and the mother of three adult sons. She earned a Bachelor's degree from the University of New Hampshire and her Law Degree from the University of New Hampshire School of Law. Maureen is a faculty member at the Keenan Ball Trial College where she instructs other trial attorneys.
Public Service
Maureen served on the New Hampshire Commission for Human Rights as an appointee of then-Governor Jeanne Shaheen. She served on the Commission from 1997 to 2004. She served on the New Hampshire Supreme Court Advisory Committee on Rules, appointed by Governor Maggie Hassan. Maureen is a member of the Compensation Appeals Advisory Board. She has also served as Chair of the New Hampshire Women's Lobby and was a nominee for a seat in the New Hampshire Senate in 2014. Maureen served three terms in the New Hampshire House of Representatives where she sat on the Judiciary Committee. First elected at age 19, Maureen remains the youngest woman ever elected to a seat in the state legislature.
Service to the N.H. Legal Community
Maureen is a founding member of the New Hampshire Women's Bar Association and served as its first president. She has served on the Board of Governors of the New Hampshire Bar Association and the New Hampshire Bar Foundation. She was honored by the Bar Association's Gender Equality Committee as the recipient of its Annual Award. Like her law partner, Anna Goulet Zimmerman, Maureen is a past-President of the New Hampshire Association for Justice (NHAJ). Maureen authored this President's Message for the NHAJ and received the Board of Governors' Award for her advocacy before the New Hampshire legislature.
Experienced in all Areas of Civil Litigation
Maureen Raiche Manning has experience in all areas of civil litigation. She represents victims in personal injury, worker's compensation and wrongful death cases.
You can reach Maureen by Email or by phone at 603-624-7200.