How a Slip & Fall Accident Can Result in Critical Injuries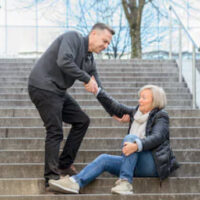 A slip and fall accident is rarely an anticipated event. This unpredictable accident can happen anywhere, at any time, and to anyone. Even celebrities fall victim to it. Susan Sarandon took to social media to show the consequences of "a little slip" she recently had.
People slip and fall in hospitals, shopping malls, grocery stores, nightclubs, bars, public parks, and all kinds of other locations. New Hampshire law defines a slip and fall accident as any accident caused by a hazardous condition on the property that results in personal injury.
If you are like Sarandon, who suffered critical injuries as a result of a fall, contact a Manchester slip and fall accident attorney from the Law Office of Manning Zimmerman & Oliveira PLLC to sue the negligent property owner.
Susan Sarandon Suffers Injuries After a Slip and Fall Accident
As reported by Fox News last week, Sarandon had to cancel an event she had scheduled with Sen. Bernie Sanders in New Hampshire due to "a little slip."
The 73-year-old Oscar-winning actress took to Instagram to share two shocking photos of her critical injuries. Along with two selfies showing her bruised face with a swollen lump above her eye, Sarandon wrote that she suffered a concussion, fractured nose, and a banged-up knee.
The actress did not share the details of how the accident occurred but revealed that she would not be able to join the New Hampshire event held by the presidential hopeful.
Hazards That Lead to Slip & Fall Accidents
Contrary to popular belief, falls affect people of all ages, not only the elderly. According to Reuters, young adults in their 20s, children under three years old, and people over 85 had the highest injury rates in fall-related accidents.
Under New Hampshire's premises liability law, a property owner has a legal duty to maintain their property in good condition and eliminate any potentially dangerous conditions on the premises. When a property owner fails to take the appropriate steps to remedy a hazard, they are liable for any resulting injuries.
Dangerous conditions that result in slip & fall accidents in Manchester and elsewhere in New Hampshire include:
Slippery or wet surfaces due to snow, ice, mopped floors, or spilled drinks or food
Lack of warning signs
Torn carpets
Inadequate snow or ice removal
Uneven or damaged walkways
Broken stairs or missing steps
Broken or missing handrails
Poor lighting conditions
Falling merchandise
Financial Compensation After a Manchester Slip & Fall Accident
A Manchester slip and fall accident attorney could file a claim against the property owner if any of the hazardous conditions mentioned above caused your injury. Establishing liability in a premises liability claim requires the plaintiff to prove that the property owner (the defendant) knew about the hazard or failed to take appropriate measures to remedy the condition.
A seemingly harmless accident can lead to disability, devastating physical injuries, and total thousands of dollars in medical bills. Our team of Manchester slip and fall lawyers at the Law Office of Manning Zimmerman & Oliveira PLLC will help you recover damages for your medical expenses, lost wages, emotional distress, and other resulting losses. Call at 603-624-7200 or 800-984-3151 to receive a free consultation.
Resources:
reuters.com/article/us-health-injuries-stairs/injuries-on-stairs-occur-in-all-age-groups-and-abilities-idUSKBN1CE1Z4
foxnews.com/entertainment/susan-sarandon-suffers-concussion-injured-fall
https://www.manningzimmermanlaw.com/where-do-most-slip-and-fall-accidents-occur/