5 Potentially At-Fault Parties in a Single-Car Crash (Other Than the Driver)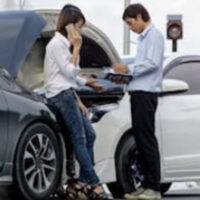 Not all car collisions involve two or more vehicles. Sometimes, a driver can sustain injuries in a single-vehicle car accident. When you are the only party involved, you may be wondering how to proceed with your insurance.
"Who else is to blame for a single-car crash other than the driver of the vehicle?" you may wonder. Well, sometimes, liability is not as apparent as it might seem, and regardless of fault, you may still be able to recover for your injuries in a single-vehicle accident.
Single-Vehicle Collision with a Tree in New Hampshire
One such crash has recently happened in New Hampton, New Hampshire. According to NBC Boston, a female passenger suffered severe injuries in a single-car accident after a pickup truck crashed head-on into a tree.
The male driver of the 2010 Toyota Tacoma drifted from his lane on Interstate 93 North and went off the highway, which resulted in the collision with the tree. The driver was not injured, while his front-seat passenger, a 40-year-old woman, was pinned inside the pickup truck. First responders had to help remove her from the vehicle. The woman was hospitalized with non-life-threatening injuries.
5 Potentially Liable Parties in a Single-Car Accident
Depending on your particular circumstances, multiple parties can be held liable for your single-vehicle crash, as absurd as it might sound. For example, if you exceeded the speed limit or engaged in distracted driving at the time of the crash, you may be the only party at fault for the single-vehicle collision.
However, sometimes, other parties can be held responsible:
Other drivers on the road (e.g., another motorist's actions caused you to drift off the road, or you had to swerve to avoid colliding with objects falling from another vehicle);
Local government entities for their failure to repair and remedy dangerous road conditions or ensure a safe roadway design;
Vehicle manufacturer (e.g., your single-car collision occurred because the brakes failed due to an automobile defect);
Pedestrians who disobeyed traffic rules and darted out into the road; and
Other parties depending on the situation.
Your Manchester car accident attorney can help identify parties that can be found liable for your injuries in a single-vehicle crash. When other parties are held responsible, they may be required to pay damages such as medical expenses, property damage, loss of income, and others.
What Type of Insurance Coverage is Applicable in Single-Car Accidents?
Many motorists wonder, "Am I still eligible to file an insurance claim after a single-vehicle crash to recover damages?" The answer depends on the circumstances and the type of coverage:
Liability insurance coverage will pay for bodily injuries and property damage caused by an injured party
No-fault coverage will cover personal injury and property damage caused by another party
Collision coverage will pay for any damage caused by contact with another automobile or other object
Comprehensive coverage will cover the cost incurred due to reasons other than a collision
Consult a Manchester car accident attorney to identify the most suitable insurance coverage in your single-auto crash in New Hampshire. The coverage may depend not only on your individual policy but also on your insurer's practices. Get legal help from our team of lawyers at the Law Office of Manning Zimmerman & Oliveira PLLC. Call at 603-624-7200 or 800-984-3151 to schedule an appointment or receive a free case review.
Resource:
nbcboston.com/news/local/nh-woman-suffers-serious-injuries-in-single-car-crash/2045553/
https://www.manningzimmermanlaw.com/can-you-blame-snow-or-ice-for-your-car-accident-in-new-hampshire/