Where do Most Slip and Fall Accidents Occur?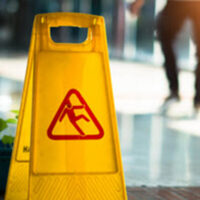 Slip and fall accidents are difficult to anticipate because they can happen just about anywhere and at any time. There are certain places, however, where slip and fall accidents are more likely to occur, either because of the high amount of foot track that they experience or due to the property's dangerous attributes.
Where a slip and fall accident takes place has a significant impact on what a plaintiff will need to prove in order to recover, so if you were injured while on someone else's property, you should speak with an experienced Manchester slip and fall attorney who is well-versed in state law and can ensure that your claim has the best possible chance of success.
Slip and Fall Accidents vs. Trip and Fall Accidents
Premises liability cases cover a range of accidents, including slip and falls, which usually occur due to a lack of traction, and trip and falls, which typically occur when someone's foot strikes another object, causing the person to lose his or her balance. Most slip and fall accidents can be chalked up to stepping on a spill or unanchored flooring, while trips are more often linked to the existence of uneven surfaces, poor lighting, or clutter in walkways.
Premises Liability
Regardless of whether a person trips or slips, he or she could be entitled to a damages award from the owner of the property in question if:
The property owner created the hazard that caused the injury;
The property owner knew of the hazard's existence, but failed to remedy or repair it; or
The owner of the premises would have known about the problem if he or she had exercised reasonable care in inspecting and maintaining the property.
Proving a property owner's negligence under these three legal theories is largely dependent on a plaintiff's ability to obtain photographs or other evidence of the dangerous condition, accident reports filed on earlier occasions, and eyewitness testimony.
Common Slip and Fall Locations
Although slip and fall hazards exist in a wide range of locations, there are certain places where these types of accidents are especially common, including:
Grocery stores, where visitors are much more likely to encounter spilled food, poorly constructed displays, and parking lot hazards like grocery carts;
Restaurants and bars, which often have poor lighting and slippery floors from spilled food and drink;
Gyms and training facilities, which are notorious for having slick floors in shower areas and locker rooms, as well as large, heavy, and unwieldy gym equipment;
Parking lots and sidewalks, which, when cracked, wet, or icy can cause serious slip and fall accidents;
Retails stores that see a lot of foot traffic, have poor lighting, or have cluttered aisles;
Swimming pools, which often have slippery floors, both inside and outside of the pool area;
Certain workplaces, including those in the construction and warehousing industries; and
Elevators and escalators, which can cause trip and fall accidents when malfunctioning or poorly maintained.
If you were injured in one of these locations, or elsewhere under circumstances caused by someone's negligence, you may have a premises liability claim. Please contact our legal team today to learn more.
Experienced Manchester Slip and Fall Attorneys
To speak with an experienced slip and fall lawyer about your own legal claim, please call the Law Office of Manning Zimmerman & Oliveira PLLC at 603-624-7200 today.
Resource:
uslaw.org/files/Compendiums2014/Retail/New_Hampshire_Retail_Compendium_of_Law_2014.pdf