The Dangers of Distracted Driving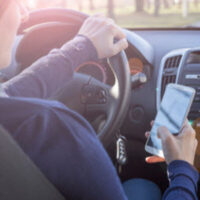 In 2015, New Hampshire passed a law prohibiting drivers from using handheld devices while driving. Unfortunately, accidents caused by distracted driving are still occurring at an alarming rate across the country. In fact, the Centers for Disease Control and Prevention (CDC) estimates that distracted driving causes as many as one out of every five car accidents. The injuries resulting from these types of collisions tend to be especially devastating, as distracted driving-related crashes often occur at high speeds.
Fortunately, it is possible for injured parties to recover damages compensating them for related losses from those who negligently caused their accident, although doing so can be difficult. So if you were recently injured in a collision caused by a distracted driver, it is important to contact an experienced New Hampshire distracted driving lawyer who can help you seek compensation for your medical bills and property damage.
What is Distracted Driving?
The National Highway Traffic Safety Administration (NHTSA) defines distracted driving as engaging in any activity that takes a motorist's attention away from the act of driving. This includes everything from texting on one's phone and talking to others in the car to adjusting a navigation system and eating and drinking. Of these activities, texting is considered to be the most dangerous because it involves all three types of distractions, including:
Visual distractions, which cover any activity that takes a driver's eyes off the road;
Manual distractions, or any activity that takes a driver's hands off of the wheel; and
Cognitive distractions, which includes activities that take a driver's mind off of driving.
Any one of these types of distractions can be dangerous, but activities that involve two or more are considered particularly unsafe. Drivers who are texting, for example, are 23 times more likely to cause a car accident, while even dialing a phone number can triple the risk of collision.
New Hampshire Law
Although using one's phone while driving is not the only dangerous form of distracted driving, it is one of the most common, even in New Hampshire where drivers are prohibited from using hand-held electronic devices that are capable of providing data or voice communication. This law was written broadly and so covers not only cell phones, but also GPS, tablets, iPods, or any other device that requires data entry.
Although New Hampshire's hands-free driving law institutes serious monetary penalties for those who drive while using their phones, distracted driving still occurs at a distressing rate in the state, causing thousands of accidents every year. Fortunately, evidence that a person was using his or her phone or was otherwise distracted can be used to prove negligence when filing a claim for compensation, so if you were injured in an accident caused by distracted driving, you should speak with an attorney about the types of evidence you may need to prove your claim.
Contact Our Distracted Driving Legal Team Today
Please call 603-624-7200 or fill out one of our brief forms with the details of your case to schedule a free case review with one of the dedicated Manchester distracted driving lawyers at the Law Office of Manning Zimmerman & Oliveira PLLC today.
Resources:
cdc.gov/motorvehiclesafety/distracted_driving/
bostonglobe.com/metro/2015/07/01/hands-free-distracted-driving-law-effect/d8TCF90coukyX5qn5fKlOK/story.html