How Do I Prove That the Other Driver Was Distracted in My Car Accident?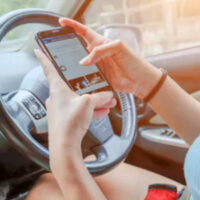 Distracted driving is one of the most common causes of car accidents in New Hampshire and other states. While many people fail to pay attention to the road when driving, it can be difficult to prove that a driver was distracted when a car accident occurs.
If you have been involved in a motor vehicle crash with a distracted motorist, it is important to seek help from a Manchester car accident attorney. An attorney can help you collect sufficient evidence to prove that the other party was distracted at the time of the collision.
At the Law Office of Manning Zimmerman & Oliveira PLLC, we are dedicated to helping you gather evidence to show that the other driver was distracted to hold them accountable for the crash and help you receive full compensation for your damages.
How to prove distracted driving in my car accident?
There are several pieces of evidence that can help you prove that another driver was distracted at the time of the crash:
Police report. Police reports play a pivotal role when it comes to determining fault in car accidents. A police officer makes a preliminary determination of fault based on the evidence gathered at the scene of the crash. If you saw that the other driver was distracted before the accident occurred, make sure to notify the officer. The police officer may include this information in the report.
Witness statements. If anyone witnessed that the other motorist was distracted before the incident, their statements could make a big difference. If your car accident case goes to trial, witnesses may be required to testify if the distracted motorist refuses to admit that they engaged in an activity that diverted their attention from driving.
Cell phone records. If a driver was texting or using a handheld cell phone to initiate or conduct a call, it might be necessary to obtain records of the driver's calls and text messages to prove that he/she was using the phone at the time of the accident.
Photos or videos. Photos and videos can be used as evidence to prove that another motorist was distracted. However, this type of evidence is not readily available to prove distracted driving because you need access to surveillance camera footage, traffic camera footage, dashcam footage from other vehicles, and others. You may be able to obtain access to any video footage that shows that the driver was distracted.
The driver's admission of guilt. Since being involved in a car crash is always a stressful experience, some drivers may admit their fault at the scene of the accident. The other driver may say something along the lines of, "I'm sorry I didn't notice the red light because I was trying to answer my phone." The driver's admission of guilt may be used as evidence to support your claim.
If you have been involved in an auto accident caused by a distracted motorist, do not hesitate to contact our Manchester distracted driving attorneys at the Law Office of Manning Zimmerman & Oliveira PLLC to help you get justice and prove the other driver's fault. Call 603-624-7200 for a consultation.