Injured After Fall On Icy Surface In New Hampshire: The Worst That Can Happen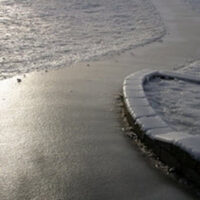 New Hampshire residents are well aware of the state's cold winters, and pedestrians often find themselves navigating icy sidewalks and pathways during these months. Unfortunately, many pedestrians slip and fall on these surfaces, suffering serious injuries. Although this might sound like a relatively minor issue, the truth is that these injuries can affect people for the rest of their lives. If you've suffered injuries after a slip and fall in New Hampshire, you're already well aware of this fact.
Serious injuries require the best medical treatment, but injured victims don't always have the necessary funds to pursue this treatment. This is especially true if victims are unable to work because of their injuries. In this situation, the only real solution is to file a personal injury lawsuit and recover a settlement. This settlement can cover your medical expenses, your missed wages, and a range of other damages. If you're serious about filing a lawsuit, you should get in touch with a qualified, experienced personal injury attorney at your earliest convenience.
A Slip and Fall Can Be Fatal 
A slip and fall on an icy surface can easily be fatal. Impacting a sidewalk or road can be enough to kill an individual, especially if they suffer a serious head or neck injury. Although it's true that seniors are more likely to suffer fatal wounds after slipping and falling on an icy sidewalk, this can happen to anyone. Seniors also have a high chance of developing complications for injuries such as hip fractures. While they are receiving medical treatment for these injuries at a hospital, there is a much higher chance of them developing an infection, and this can result in death.
If your loved one has passed away from their injuries after a slip and fall on an icy surface, you can file a lawsuit on their behalf. This is called a "wrongful death" lawsuit. In many ways, this is similar to a normal personal injury lawsuit, but you can claim different damages. These damages include funeral costs, loss of consortium, loss of future earnings, and more.
Severe Head Injuries 
A slip on an icy surface can also result in severe head injuries. Often these injuries are so severe that the victim is never the same again. Head injuries can cause all kinds of issues, from paralysis and loss of cognitive ability to personality changes and depression. If you're filing a lawsuit for head injuries, it's very important to claim all of the non-economic damages that apply. These are emotional or mental issues that you have suffered, which are much less obvious than the physical or financial issues you're dealing with.
Enlist the Help of a Qualified Attorney Today 
If you've been injured by a slip on an icy surface, you should connect with a Manchester slip and fall attorney as soon as possible. Reach out to the Law Office of Manning Zimmerman & Oliveira PLLC at your earliest convenience, and we can guide you towards a positive legal outcome. Negligent property owners who fail to keep their premises safe need to be held accountable. Book your consultation today, because the statute of limitations may prevent you from taking legal action if you wait too long.
Resource:
unh.edu/upd/severe-winter-weather