Establishing Fault in a New Hampshire Slip & Fall Case to Recover Damages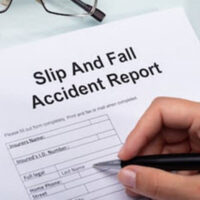 Slip and fall cases arise when a person – typically, a customer or visitor on someone else's property – suffers injury after slipping or tripping and falling due to an unsafe condition on the premises.
A large percentage of slip and fall incidents inside buildings occur due to dangerous conditions such as wet floors, missing steps, damaged tiles, and insufficient lighting. Outdoor accidents often happen due to potholes, broken steps, ice and snow, and other hazards.
New Hampshire's premises liability law requires property and building owners to take reasonable steps to ensure that their property is safe and free of any hidden or unreasonable hazards.
A property owner who fails to do so may be held at fault for the injured visitor's damages and losses. However, a victim must establish the negligent property owner's fault by providing sufficient evidence to prevail in a personal injury case.
Liability Theories to Prove Fault in a New Hampshire Slip & Fall Case
Prior to filing a lawsuit, a New Hampshire victim must identify all potentially at-fault parties with the help of a Manchester slip and fall attorney. When all potentially liable individuals and entities have been identified, your lawyer will help determine whether the parties were negligent.
Depending on the nature of your slip and fall incident, the at-fault parties may include the landlord, building owner, occupier, property management company, property owner, or others.
New Hampshire law offers slip and fall victims two liability theories to prove fault:
Proving that the property owner or individual / entity in control of the premises knew or should have known about the unsafe, injury-causing condition; and
Proving that the property owner or individual / entity in control created the hazard.
Under the first liability theory, the plaintiff must establish that a reasonable property owner would have discovered the condition and had enough time to fix it.
In either case, the plaintiff must prove the foreseeability of their injury due to the defendant's actions or lack of action.
The defendant in your slip and fall case is likely to raise a defense to avoid liability. Some of the common defenses in New Hampshire slip and fall accidents are claiming that:
The injured party contributed to their injury;
The injured party contributed to their losses;
The condition was not hazardous;
The hazard was unforeseeable; and
The condition was open and obvious.
Evidence to Prove Fault in a Slip & Fall Accident
Proving negligence in slip and fall cases requires careful analysis and thorough investigation to collect a sufficient amount of evidence. When investigating your case, a slip and fall accident lawyer in Manchester will look for various types of evidence:
Cellphone photos and videos at the scene. It is advised to take pictures and capture videos at the scene of your slip and fall incident to document the injury-causing condition. The property owner could fix the dangerous condition before it can be documented.
CCTV camera footage. You can also prove liability by demonstrating surveillance footage of the accident. Your attorney will request CCTV camera footage from the property owner or business.
Witness statements. Eyewitnesses can provide invaluable statements about how the slip and fall incident occurred, how long the hazardous condition existed, and whether the victim was partially at fault for the accident.
The incident report. The official report can serve as a valuable piece of evidence to establish fault in your slip and fall accident.
Consult with a Manchester slip and fall attorney to determine the most optimal legal strategy for your situation. Talk about your case with lawyers at the Law Office of Manning Zimmerman & Oliveira PLLC. Call us at 603-624-7200.
https://www.manningzimmermanlaw.com/how-a-slip-fall-accident-can-result-in-critical-injuries/