Does New Hampshire's 2020 Law Prohibit Talking on the Phone While Driving?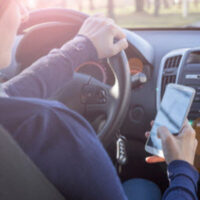 Now that cellphones have taken over our lives, many drivers find it difficult to put away their devices even when operating a vehicle. While nearly everyone knows that New Hampshire law prohibits texting while driving, does the state law forbid talking on the phone while driving?
That depends on whether you are using a handheld device or not. Under New Hampshire's distracted driving laws in 2020, all motorists are prohibited from using a handheld cellphone to talk while driving or read/compose text messages.
The most recent survey by The Zebra revealed that nearly 29% of drivers admit to texting and driving. The study found that the drivers' most popular distracted driving behaviors are video-chatting, taking photos and videos, as well as engaging with work emails.
So, what makes talking on the phone while driving illegal in New Hampshire? The state's distracted driving law in 2020 makes it unlawful for all drivers to operate a motor vehicle while using a handheld cellphone or mobile electronic device to:
Initiate or receive a call
Read, compose, or view an electronic message
Initiate or request access to the Internet
Browse the Internet
Manually type data
Input information into a navigation system
Motorists who get caught with their cellphone in the immediate proximity to their ears are presumed to have been engaged in a call.
Exceptions to New Hampshire's Distracted Driving Law
One of the most prominent exceptions to New Hampshire's distracted driving law is not being in motion in a vehicle that is pulled to the side, legally parked, or off the road.  However,  being in motion or being at a temporary stop for reasons such as red lights, stop signs, or traffic is considered "driving" under the distracted driving law.
Other exceptions to the law include:
Using an electronic mobile device to contact emergency services (911, the fire department, police, emergency medical provider);
Adjusting a two-way, non-cellular radio with one hand;
Using hands-free technologies; and
Performing acts required by an ignition interlock device.
New Hampshire law imposes these penalties for distracted driving violations:
A $100 fine for a first violation
A $250 fine for a second violation within two years
A $500 fine for a third or subsequent violation within two years
any phone use could still be a distraction, even if it isn't an offense that results in a fine.  For example, if someone is using their phone hands-free and causes a crash, they could be negligent for driving while distracted and not following the rules of the road.
Distracted Driving Restrictions for Underage Drivers in New Hampshire
New Hampshire law prohibits motorists under the age of 18 from using a cellphone or other electronic device in any manner while driving. That means that underage drivers in New Hampshire violate the law even when they use hands-free technology. The only exception is if minor motorists use a cellphone to report emergencies.
The same penalties apply for underage drivers who use cellphones while driving. Also, drivers under the age of 18 may face license suspension or revocation. Under certain circumstances, a violation can lead to a reckless or negligent driving conviction.
If distracted driving, which led to a car crash, results in the death of another person, the distracted motorist may face vehicular homicide charges in New Hampshire. Contact our Manchester car accident attorney if the other motorist used a cellphone at the time of your collision. Reach out to the Law Office of Manning Zimmerman & Oliveira PLLC for a case evaluation. Call   603-624-7200.
The Law Office of Manning Zimmerman & Oliveira PLLC is proud to offer a distracted driving scholarship to two New Hampshire High School students. The recipients of the Manning Zimmerman & Oliveira PLLC Distracted Driving Scholarships will receive $1,000 toward tuition at any post-secondary educational program or institution (including universities, community colleges, or vocational schools) that is intended to grant a degree or certificate.  Please follow this link for more information:  https://www.manningzimmermanlaw.com/scholarships/how-to-enter/
Resource:
thezebra.com/distracted-driving-statistics/
https://www.manningzimmermanlaw.com/5-potentially-at-fault-parties-in-a-single-car-crash-other-than-the-driver/