Who's Liable When You Slip and Fall on Ice or Snow in New Hampshire?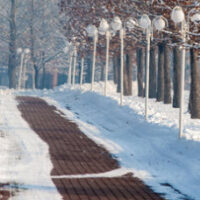 Winter in New Hampshire can be absolutely brutal. Each winter, thousands of residents are injured in slip and fall accidents in New Hampshire. But who can be held liable for your injury when you slip and fall on ice or snow in New Hampshire?
The answer depends on the location where you slipped and fell, the circumstances involved in your case, and many other factors. Consult with our Manchester slip and fall attorney at the Law Office of Manning Zimmerman & Oliveira PLLC to determine liability in your particular situation.
What is New Hampshire's premises liability law?
Under New Hampshire law, property owners must exercise reasonable care when it comes to maintaining and operating their premises [Simpson v. Wal-Mart Stores, 144 N.H. 571, 574 (1999)].
Also, property owners in New Hampshire owe a duty to entrants to use due care to maintain their premises in a safe condition free of hazards [True v. Meredith Creamery, 72 N.H. 154, 156, (1903)].
When dangerous conditions exist on the premises, the property owner is required to take all reasonable precautions to protect entrants from foreseeable hazards on the property [Pridham v. Cash & Carry Bldg. Center, Inc., 116 N.H. 292, 294-95, (1976)].
When are property owners liable for slip and fall accidents on ice or snow?
Property owners in New Hampshire have a legal obligation to maintain their premises, including walkways and sidewalks, in a safe condition to prevent foreseeable accidents and injuries.
Thus, if the owner fails to take reasonable precautions to remove ice or snow on their premises, and a customer slips and falls on ice or snow, the injured customer may be able to hold the owner responsible for the resulting injury and damages.
Examples of cases where the property owner may be held liable for the customer's injury as a result of slipping and falling on ice or snow are:
A condition on the property that the land owner created or failed to address (such as a known leaking pipe, or landscape watering that was not turned off when the weather got cold enough to freeze;
Failing to salt or sand properly and in a timely manner; and
Someone slipped and fell (but was not injured) on ice and complained to the property owner, but the owner failed to take any measures to remedy the dangerous condition, and then someone else slipped and got injured.
Under NH Rev Stat § 507:7-d, the injured person's degree of fault is also taken into account when determining liability for a slip and fall accident involving ice or snow. New Hampshire follows the doctrine of modified comparative negligence, which means an injured person is barred from recovering any damages if they are deemed more at fault than the other party.
Why you need a Manchester slip and fall attorney
If you slipped and fell on ice or snow on someone else's property, it is advised to get help from a knowledgeable attorney to help you obtain the compensation you deserve.
A skilled slip and fall attorney will help you collect and preserve evidence following the accident to establish fault. Contact our attorneys at the Law Office of Manning Zimmerman & Oliveira PLLC to investigate your case if you slipped and fell on ice or snow. Call at 603-624-7200 or 800-984-3151 for a case review.
Resource:
casetext.com/case/true-v-creamery