Congratulations to the 2019 Marilla M. Ricker Achievement Award Recipient: Attorney Maureen Raiche Manning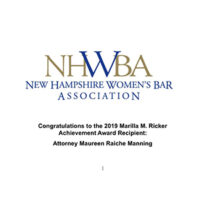 The NHWBA is pleased to announce the selection of Attorney Maureen Raiche Manning as the recipient of the 2019 Marilla M. Ricker Achievement Award. The Ricker Award honors an outstanding woman lawyer in New Hampshire who has achieved professional excellence and paved the way to success for other women lawyers, advanced opportunities for women in the profession, and/or performed exemplary public service on behalf of women. Attorney Manning clearly exceeds all of these criteria.
Attorney Manning was nominated for this award by four different attorneys over multiple years. They wrote of her with clear admiration and appreciation. She was described as "always available to help other women lawyers and to mentor newer women lawyers" and as someone "I can always reach out to."
Attorney Maureen Raiche Manning has experience in all areas of civil litigation, including representing victims of personal injury, workers' compensation and wrongful death cases with a proven record of success in New Hampshire federal and state courts. She is a lifelong resident of Manchester and the mother of three adult sons.
Maureen has served on the New Hampshire Commission for Human Rights, the New Hampshire Supreme Court Advisory Committee on Rules, and was Chair of the New Hampshire Women's Lobby. Maureen was a nominee for a seat in the New Hampshire Senate in 2014 and served three terms in the New Hampshire House of Representatives. First elected at age 19, Maureen remains the youngest woman ever elected to a seat in the state legislature.
Maureen is a founding member of the New Hampshire Women's Bar Association and served as its first president. She has served on the Board of Governors of the New Hampshire Bar Association and the New Hampshire Bar Foundation. She was honored by the Bar Association's Gender Equality Committee as the recipient of its Annual Award. Maureen is a past-President of the New Hampshire Association for Justice and received the Board of Governors' Award for her advocacy before the New Hampshire legislature.
Attorney Manning is well-deserving of this award, as, in the words of one of her many nominators, she "was instrumental in starting" NHWBA. Another noted her "path of exemplary public service on behalf of women" and "commitments to preserve the Winnie McLaughlin Scholarship."
Attorney Manning was honored at the 22nd Annual Fall Reception on October 17th, held at the McAuliffe-Shepard Discovery Center in Concord.