NH disability attorneys share information about Social Security cost of living increase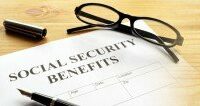 The NH disability attorneys at the Law Office of Manning & Zimmerman, PLLC are pleased to share this Social Security Administration press release announcing a 1.7% benefit increase for 2015. Information about Medicare changes for 2015 is available at the Medicare website.
For help with a disability claim, contact the NH disability attorneys at the Law Office of Manning & Zimmerman at 603-624-7200. A Manchester social security disability attorney will be able to help you determine your qualification status, and what you will need to do to move through the process. Our team is prepared to assist you with your filing so that you can reach a resolution as quickly and smoothly as possible.
We're standing by to represent you and we guaranteed to have the training and experience to be able to handle your case. We pride ourselves in being the go-to representatives for a wide variety of disability lawsuits. We help our clients receive the compensation they deserve for their disability claims. We handle social security disability cases throughout the state. It is important to stay patient during this process .
By working closely with our clients and understanding their unique requirements, claims and goals, we help them take the most appropriate steps toward the best possible resolution.