NH disability lawyers provide information on Social Security's "Listings"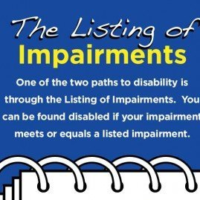 Meeting a Social Security Listing
According to the NH disability lawyers at the Law Office of Manning Zimmerman & Oliveira PLLC, Social Security defines disability as the inability to engage in substantial gainful activity because of a medically determinable condition or conditions that has lasted 12 consecutive months (or is likely to last 12 consecutive months) or result in death.
How do You Prove that You are Disabled?
There are three approaches you can take to prove that you meet Social Security's definition of disability; 1) meeting a "listing" (the focus of this article); 2) meeting the SSA's medical-vocational guidelines, and; 3) proving that your capacity to perform even a simple, sit-down, entry-level job has been so reduced by your impairments that you would not be a reliable worker 8 hours a day/5 days a week.
What is a Listing of Impairment?

The SSA's listings describe medical problems for 14 different body systems which are deemed serious enough to prevent you from functioning in a full-time work setting. The full list of the 14 categories are found here. If your medical/mental health condition meets a listing, the SSA assumes you cannot work and you, therefore, do not have to introduce any other evidence about your work capacity. If, however, you do not meet a listing, you will have to introduce additional evidence about your diminished work capacity.
In this regard, listing level cases are usually decided faster since the SSA does not have to evaluate anything other than medical evidence. If your case meets a listing, there is a good chance it will be approved at the initial stage.