Manchester Truck Accident Lawyer Discusses Truck Accidents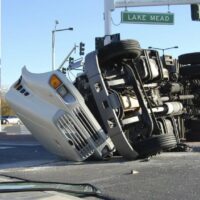 If you were recently involved in an accident with a large tractor trailer, you are likely anxious and fearful about ever driving again. If you sustained significant injuries, you may be unable to return to work and face mounting medical bills.
Can I Sue the Trucking Company Employing the Truck Driver?
In most cases, you can and should name the driver's employer in a personal injury lawsuit. Not only is a large trucking corporation in a better position to compensate you for your injuries, but the trucking company is actually responsible for hiring and supervising safe, cautious drivers. Under the doctrine of vicarious liability, employers may be responsible for the misdeeds of their employees. This doctrine applies if the employee was acting within the scope of their employment and performing job-related responsibilities. You may have a harder time recovering if the employee-driver was in violation of employment procedures or outside required protocol,
What If the Driver Was Violating Mandatory Federal Trucking Regulations at the Time of the Crash?
The Federal Motor Carrier Safety Administration (FMCSA) maintains a number of regulations with regard to the number of consecutive hours a truck driver may be behind the wheel. The following regulations are in place for a commercial truck driver operating a vehicle weighing 10,001 pounds or more:
The maximum average work week for truck drivers may not exceed 70 hours;
Any driver reaching the 70 hours driving in a week may resume driving only after 34 consecutive hours of rest. This which must include two nights of rest between the hours of 1:00 AM and 5:00 AM; and
Drivers must take a mandatory 30-minute break at some point within the first 8 hours of work.
Evidence showing a deviation from these requirements could make the employer liable if work policies mandate such a rigorous schedule. The truck driver may also be liable if they continued driving despite their employer's direction to take a break.
Contact a Manchester Truck Accident Lawyer Today
A Manchester truck accident lawyer at the Law Office of Manning Zimmerman & Oliveira PLLC will provide a free consultation for those injured in a trucking crash. It is essential that you have competent legal representation from the onset of your case through litigation. Big insurance companies have lawyers looking out for their interests and you should too!
For more information, please contact the Law Office of Manning Zimmerman & Oliveira PLLC, PLLC at 603-624-7200
To subscribe to our newsletter, click here. We are also on Facebook and you can follow us on Twitter.
Experienced. Knowledgeable. Personally Committed to Justice.