Can You Obtain Workers' Comp Benefits if You Contract COVID-19 at Work in New Hampshire?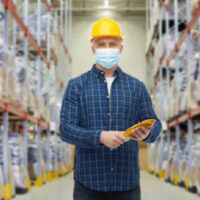 These unprecedented and stressful times have impacted the everyday life of every New Hampshire resident. Life as we know it has changed drastically after the coronavirus (COVID-19) pandemic began.
More than 16 million Americans, who account for about 10% of the U.S. workforce, have already lost their jobs in just three weeks as a result of the economic fallout from COVID-19.
In New Hampshire alone, over 36,000 unemployment claims were filed in one week, and the number could rise dramatically in the next weeks. But what about workers' compensation benefits? Can you obtain workers' comp benefits in New Hampshire if you were infected with coronavirus at work? That is a tricky question to answer.
New Hampshire Residents to Receive 'Immediate' Unemployment Benefits Amid the COVID-19 Pandemic
If you live in New Hampshire and are unable to work or your work hours were reduced due to the COVID-19 pandemic, you might have access to "immediate" unemployment benefits. Also, according to Foster's Daily Democrat, New Hampshire residents were also granted temporary protections from losing their homes or having their utilities cut off during the pandemic.
Last month, New Hampshire Gov. Chris Sununu issued a series of executive orders to protect residents from lost wages, eviction, and utility shut off during the pandemic. Particularly, Sununu expanded the eligibility for unemployment benefits during the crisis to include:
Employees at businesses that temporarily closed due to the pandemic;
People who were told to self-quarantine by a healthcare provider, employer, or the government;
People who need to care for ill or quarantined family members;
People who need to care for children due to school and daycare closures in New Hampshire; and
Self-employed individuals who are unable to operate their business during the crisis.
Applications for unemployment benefits can be submitted either online or via phone. Also, Sununu suspended the mandatory one-week waiting period.
Can You Seek Coronavirus-Related Workers' Comp Benefits in New Hampshire?
But what about seeking workers' comp benefits if you contracted COVID-19 on the job in New Hampshire? That's where things get complicated. Typically, workers in New Hampshire are eligible for workers' comp benefits if their injury or illness meets the definition of an "occupational disease."
New Hampshire's RSA 281-A:2 defines "occupational disease" as an injury or illness that:
Arose out of the worker's employment;
Arose in the course of employment; and
Stemming from causes and conditions peculiar to the particular industry, occupation, or employment.
Thus, a worker in New Hampshire who was infected with coronavirus at work may be covered by workers' compensation insurance. For example, if:
The employee contracted COVID-19 in the course of employment; and
It is established that coronavirus exposure is peculiar to the claimant's particular industry, occupation, or employment.
Typically, doctors, nurses, and other healthcare professionals, first responders, and other workers on the front line of the pandemic are more likely to be exposed to coronavirus in the course and scope of their employment. Thus, they are more likely to seek workers' comp benefits in New Hampshire.
Speak with our Manchester workers' compensation attorneys to determine whether your COVID-19 infection is considered a "compensable workers' comp injury." Contact the Law Office of Manning Zimmerman & Oliveira PLLC for a case review. Call at 603-624-7200 right now.
Resources:
fosters.com/news/20200409/early-hopeful-signs-on-virus-seen-in-nh-as-unemployment-surges
fosters.com/news/20200317/nh-starts-immediate-unemployment-benefits-due-to-coronavirus
cnbc.com/2020/04/09/weekly-jobless-claims-report.html