Can You Recover Damages After a Snowmobile Accident in New Hampshire?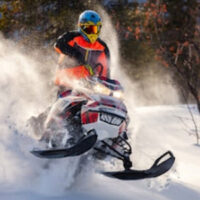 Riding a snowmobile can be a thrilling experience for people of all ages. However, with all that excitement and fun comes hazards and risks associated with snowmobiling.
Snowmobile accidents are not uncommon in New Hampshire during winter months. One such accident in NH has recently left a woman and her 15-year-old passenger injured.
Snowmobile Accident in New Hampshire
A report by WCAX says that New Hampshire officials had to use a tracked vehicle to rescue a female snowmobile rider and her 15-year-old passenger after their rented snowmobile crashed into a tree.
The accident involving a woman from Puerto Rico occurred on New Year's Eve. The female rider suffered severe injuries, while the extent of the teenage passenger's injury remains unclear. Both were said to be wearing helmets. Officials say inexperience is considered the primary factor in the snowmobile accident.
Causes of Snowmobile Crashes
But inexperience is not the only cause of snowmobile accidents. While excessive speed is considered the most common contributing factor in snowmobile crashes, other causes include:
Reckless or careless operation of the snowmobile
Riding a snowmobile under the influence
Distracted driving
Riding on unmarked trails
Lack of safety equipment
Mechanical errors
Defective snowmobile
Faulty brakes or other parts
Rider inexperience
Collisions with motor vehicles when crossing roads and highways
Unexpected corner turns
Fallen trees and branches on the trail
Other hazards on the trail
Riding on the wrong side of the trail
Striking fixed objects (trees, posts, fences, etc.)
Riding on lakes and ponds that are not frozen
Safety Tips to Prevent Snowmobile Accidents
When riding a snowmobile, follow these tips to ensure property safety:
Maintain a safe speed (avoid excessive speeds)
Stay focused on the trail (avoid distracted driving)
Do not let children under 18 operate a snowmobile
Take a New Hampshire-approved snowmobile safety course before getting behind the wheel
Avoid alcohol or drugs before and during operation
Wear protective clothing
Avoid snowmobiling on ice when uncertain about its thickness
Do not ride with more than one passenger
Can You Recover Damages After a Snowmobile Accident?
Just like victims of car accidents, victims of snowmobile crashes also have legal rights. Drivers or riders who are negligent, reckless, or careless must be held legally accountable for the resulting injuries.  . An injured person can recover damages after a snowmobile crash by suing the owner and operator of the vehicle, or others responsible for the crash.  For example, if the snowmobile was rented and the crash happened due to a mechanical error or inadequate maintenance, the injured party may bring a claim against the snowmobile rental company..
Compensation following a snowmobile crash may include medical expenses, loss of income, pain and suffering, and many more. Contact a Manchester personal injury attorney if you were hurt in a snowmobile accident. Speak with our lawyers from the Law Office of Manning Zimmerman & Oliveira PLLC by calling 603-624-7200.
Resource:
wcax.com/content/news/2-injured-in-New-Hampshire-snowmobile-crash-566627271.html
https://www.manningzimmermanlaw.com/when-can-you-get-enhanced-compensatory-damages-in-new-hampshire/