Can You File a Lawsuit If You Sign a Waiver?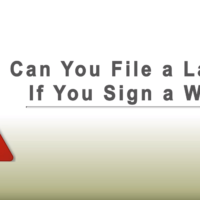 Being in an accident can be scary, especially if you have been injured. It may leave you wondering what to do next. The Manchester slip and fall Law Office of Manning Zimmerman & Oliveira PLLC will be by your side, step-by-step, throughout the legal process. When participating in certain activities that are deemed to be risky, you may be required to sign a liability release or a waiver before you are allowed to proceed. But what happens if you are injured after signing that release? Will you still be able to receive a settlement for your injury? Those are questions that your NH personal injury attorneys will be able to answer for you. Laws can vary from state-to-state, but the following information is informative about waivers in general.
Can you still file a lawsuit if you sign a waiver?
When you sign a liability release or a waiver before participating in an activity, you are basically agreeing to not sue the organization should you get injured during the activity. Unfortunately, many people who sign these waivers are not aware of what they are actually agreeing to. While the waiver does protect the organization, it does not protect them from every situation. The following are situations that could occur that would still allow you to sue the organization for damages:
Wrongdoing that was deliberate. If the organization deliberately cut costs on equipment that caused an injury, they could be at fault despite the wavier.
Negligence on the organization's part. The waivers typically will not cover any injuries that happen due to carelessness or acts that could have been prevented.
Children who are under 18 and sign a wavier usually are not allowed to sign a waiver on their own, so it will likely not be binding. The same goes for adults who do not have the mental capacity to sign a waiver on their own.
Fraud. If the organization does not disclose all of the risks, then the waiver could be void. As a participant in the activity, you need to be made aware of all the risks involved.
Contact the Manchester Slip and Fall Law Office of Manning Zimmerman & Oliveira PLLC
The New Hampshire personal injury lawyers at Manning Zimmerman & Oliveira PLLC would be pleased to discuss your matter with you and be your partner throughout the process. Our Manchester slip and fall law firm is experienced and prepared to deal with any situation that may arise. For a free consultation, please feel free to call us at 603-624-7200, send us an email to info@MZLawNH.com, or reach out to us using the "contact us" or chat feature on our website.
Experienced • Knowledgeable • Committed to Justice
Manning Zimmerman & Oliveira PLLC invites you to subscribe to our newsletter. You can also follow us on Twitter.