Who's Liable for Your Injury During a Concert Accident in New Hampshire?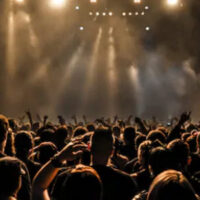 Many people cannot imagine their lives without attending concerts and music festivals to listen to their favorite singers and bands. While concerts are generally safe, concertgoers can sustain injuries. Some concertgoers slip or trip and fall, while others get injured in a fight. There are also cases when people get injured when other concertgoers or even performers jump from the stage onto the audience.
New Hampshire Man Receives $2 Million for Injury During a Concert Accident
A New Hampshire man, who suffered permanent injuries when a concertgoer jumped from the stage onto him, settled his lawsuit against a concert promoter for a $2 million, according to Asbury Park Press.
The incident occurred in April 2017 at Asbury Park Convention Hall. The plaintiff, a 46-year-old retired police officer from New Hampshire, suffered "severe and permanent injuries" when a concertgoer jumped from the 4-foot stage onto his head, according to the lawsuit. Video of the event showed several concertgoers climbing onto the stage and jumping into the crowd, with no actions by the band or security to stop the activity.
The victim, whose injuries included a spinal cord injury, filed a lawsuit against concert promoter Asbury Audio Inc., Asbury Park Convention Hall, and the owner of the venue, Madison Marquette Inc. The plaintiff alleged that the defendants failed to prevent concertgoers from climbing onto the stage and jumping onto other people in the audience.
Types of Concert Accidents
While music festivals and concerts are fun, people are likely to get injured when large crowds gather and alcohol is consumed. Some of the most common types of concert accidents are:
Fights. When concertgoers drink alcohol, they can become violent and are likely to assault other people. When fights happen during concerts, innocent people can easily get caught in the middle.
Trampling. When large crowds attempt to exit the venue during an emergency, many concertgoers can sustain serious injuries because of trampling.
Slip and fall accidents. Slip or trip and fall accidents are bound to happen when people spill liquids and the venue's employees fail to clean up and remove other hazardous conditions in a timely manner.
Stage diving. Concertgoers are likely to get injured when performers or fellow concertgoers jump from the stage onto them.
Projectiles. A concertgoer can sustain an injury when people throw objects and projectiles.
Heat stroke and sunburn. Heat injuries and sunburns are not uncommon during concerts in summer.
Overdoses. Unfortunately, some people take illegal drugs when attending concerts.
Determining Liability for Injuries During a Concert
Concertgoers who get injured during a concert may have a right to recover damages from the owner of the venue, concert promoter, security company, fellow concertgoer, or a third party, depending on the facts surrounding their accident. Often, an injured concertgoer can pursue a claim against multiple liable parties.
It is advised to speak with a Manchester personal injury attorney to help you determine liability in your particular case. Contact our lawyers at the Law Office of Manning Zimmerman & Oliveira PLLC to discuss your concert accident and establish fault in your case. Call at 603-624-7200 to receive a case review.
Resource:
app.com/story/news/2020/09/25/injured-asbury-park-concert-goer-settles-lawsuit-2-m/3530371001/
https://www.manningzimmermanlaw.com/how-much-will-my-personal-injury-settlement-be-in-new-hampshire/