What Evidence Do You Need After a Slip and Fall Injury in New Hampshire?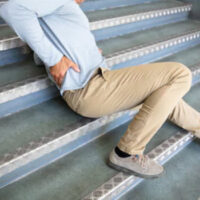 If you sustained a slip and fall injury on someone else's property and you are considering filing a premises liability claim in New Hampshire, whether or not you will be awarded compensation depends on how compelling the evidence is.
Recovering Damages for a Slip and Fall Injury
In New Hampshire, you will have to establish liability and causation in order to recover damages following a slip and fall accident.  This means that you need to show not only that there was someone who was negligent, but also that this negligence was the cause of your injuries. Because of this, it is advised that one seek legal help from a skilled personal injury attorney early in the process.
Generally, an injured individual can obtain compensation for their slip and fall injury when they can prove that the owner of the property or their employee:
Caused the dangerous condition that led to an accident;
Knew about the hazard but failed to correct it; or
Should have known about the hazard in order to remedy it in a timely manner (this usually requires the "reasonable person" standard).
6 Types of Evidence That You Need to Win Your Slip and Fall Case
Broadly speaking, there are six types of evidence that can help you prove your slip and fall case in New Hampshire.
Photos of the Dangerous Condition
The importance of taking photos of the dangerous condition that caused your slip and fall accident cannot be overstated. The photos of the hazard would not only serve as proof that the dangerous condition existed, but would also help your slip and fall lawyer establish constructive knowledge. Constructive knowledge means that the property owner or employees should have noticed and remedied the hazard through the exercise of reasonable care.
Video Footage of Your Slip and Fall Accident
Many slip and fall accidents are captured on camera by security surveillance. However, the owner of the camera may be reluctant to give you access to the footage in the absence of legal pressure. A knowledgeable lawyer will help make sure this evidence is preserved.
Accident Report
Typically, accident reports are created by the manager of the property where the incident occurred, especially if you were injured at a place of business in New Hampshire. You should ask to keep a copy of the accident report.
Your Written Notes
Your own written account of the slip and fall accident can serve as an important piece of evidence in your claim or lawsuit against the owner or occupier of the property. It is vital to write down all the details about the incident, including:
When and where the accident took place;
The weather conditions at the time of the incident;
Why you were on the property;
How the property owner or manager handled the situation; and
Whether medical professionals or emergency responders arrived at the scene.
Witness Accounts
Testimony from people who witnessed how you slipped and fell will play a major role in your case, which is why it is vital to write down the names and phone numbers of the people who witnessed the incident. The more witness accounts, the better.
Bills, Records, and Other Documents
Since you are also required to prove the severity of your injury and the extent of your damages, you need to collect a variety of bills, records, and documents related to your injury:
Medical records
Diagnostic test results
Photos of any visible injuries
Hospital bills
Medication prescriptions
Paystubs indicating loss of income
Receipts for replacement services
Reach out to our knowledgeable Manchester personal injury attorneys to help you gather the necessary evidence to prove your case and recover damages. Contact our lawyers at the Law Office of Manning Zimmerman & Oliveira PLLC, for a case review. Call at 603-624-7200.
https://www.manningzimmermanlaw.com/establishing-fault-in-a-new-hampshire-slip-fall-case-to-recover-damages/