What Does It Mean if You Have Chest Pains After a Car Accident?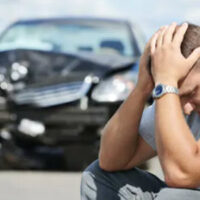 Many car crash victims experience chest pains after being in an accident. Chest pain or any discomfort in the chest after an auto accident could be a sign of a serious medical emergency.
Seek medical attention if you have chest pains after a motor vehicle collision. Failing to see a doctor after a vehicle crash may not only aggravate your trauma but may also make it more difficult to prove the pain you were experiencing, as auto insurance companies may argue you weren't hurt if you don't have medical documentation.
Why Do People Experience Chest Pains After a Car Crash?
Chest pain is a common symptom that car crash victims experience after their car collides with another vehicle. There could be several underlying causes of chest pain after an auto collision, and all of them require medical attention.
After all, crushing chest pain in the center, left, or right side of the chest may indicate a severe medical emergency, which could end up being fatal. Chest pain after a motor vehicle accident may be related to trauma resulting from the crash itself.
Causes of Chest Pain Following a Car Accident
Causes of chest pain after a car or truck accident include:
Muscle strain. Any traumatic event, such as a vehicle crash, can strain various muscles, including your chest muscles. While straining your chest muscles is not as serious as other causes, it can cause severe pain.
Bruised ribs. Bruises are commonly associated with auto collisions. The ribs and sternum can be bruised as a result of hitting the steering wheel or being restricted by the seatbelt. This can cause chest pains, tightness, aching, and discomfort.
Fractured ribs. Bruises are not the worst thing that can happen to your ribs in a car accident. Often, chest pain is a symptom of fractured ribs or sternum. Fractured ribs can cause sharp and excruciating pain in the chest.
Internal organ injuries. Your life may be in danger if the chest pain is an indication of internal organ injuries. When damaged, the liver, kidneys, spleen, or heart can cause chest pain.
Torn or ruptured veins and arteries. Another life-threatening condition is when your arteries and veins are torn or ruptured in a vehicle crash.
Heart attack. A stressful situation or traumatic event such as a car accident can trigger a heart attack, which can happen immediately after or soon after the crash. People often mistake a heart attack for chest pains.
What to Do if You Have Chest Pain?
Anyone who has been in a vehicle crash should see a doctor immediately regardless of whether he or she experiences chest pain or feels "absolutely fine." Let qualified medical professionals examine and diagnose any potentially severe conditions resulting from the collision.
Chest pain – or any other symptoms, for that matter – should not go unnoticed. Many people underplay their chest pain, thinking that there is nothing serious, and end up putting off care. Failure to seek medical attention if you have chest pain could aggravate the existing medical condition or cause death.
Can You Receive Compensation if You Have Chest Pain?
You may be entitled to compensation if your chest pain is the result of a motor vehicle collision. If the accident occurred through the fault of a careless or negligent driver, you might recover:
Medical bills (future and past)
Loss of income (lost wages) if the victim cannot work
Diminished earning capacity
Pain and suffering and other non-tangible damages such as mental anguish, emotional distress and loss of enjoyment of life.
Chest pain could signal a severe condition that can lead to costly medical bills. Consult with a Manchester car accident attorney if you have questions regarding compensation. Contact the Law Office of Manning Zimmerman & Oliveira PLLC at 603 624-7200 for a consultation.
https://www.manningzimmermanlaw.com/does-new-hampshires-2020-law-prohibit-talking-on-the-phone-while-driving/