NH Injury Lawyers Discuss Truck Crashes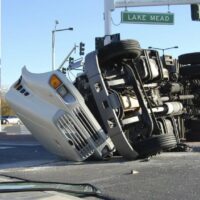 Due to their size and weight, trucks can cause serious damage and result in fatalities if involved in a crash.
According to data released by the National Highway Traffic Safety Administration (NHTSA), 4,317 fatalities occurred in 2016 involving large trucks. This is 5.4% higher when compared to 2015 and is the highest level of large truck crash deaths since 2007.
Trucks vary in weight, size, and utility purposes. As a result, these vehicles can cause different extents of damage when involved in a truck crash. Below are statistics specifically related to the type of truck involved in a crash.
SEMI & HEAVY TRUCKING CRASH STATISTICS
Of the 15.5 million trucks in the U.S., nearly 13 percent are big rigs, tractor trailers, and semis
About 98 percent of all semi accidents result in at least one fatality
Tractor trailer crashes cost more than $20 billion each year. Of this amount, $13.1 billion is associated with loss of quality of life
For every 100 million miles driven on U.S. roads, there are 2.3 deaths and 60.5 injuries caused by big rigs
COMMERCIAL TRUCK CRASH STATISTICS
The average cost of a commercial truck crash is about $59,150
Nearly 90 percent of commercial truck crashes are caused or worsened by some sort of human error. This is either on behalf of a truck driver, other drivers, other vehicle passengers, cyclists, or pedestrians
About 75 percent of commercial truck crashes are caused by drivers of other smaller passenger vehicles, rather than truck drivers
Driver fatigue is responsible for roughly 30 percent of all commercial truck crashes
TRUCK CRASH INJURY STATISTICS
About 130,000 individuals are injured each year in truck collisions
About 22 percent of all truck crashes result in injuries
In most truck crashes (about 70 percent), there are no injuries or deaths – only property damage
IN THE NEWS
A recent truck crash resulted in the loss of 16 Canadian junior hockey players. On April 6, 2018, these players were killed and others injured when a trailer truck struck their bus. The driver of the semi-truck failed to yield at the flashing stop signal, colliding with the bus carrying the team. Police charged the driver of the semi-trailer with 16 counts of dangerous operation of a motor vehicle.
The driver had only one year experience driving trucks and two weeks in the vehicle involved in the crash. He had only been driving the vehicle on his own for two weeks when the crash occurred. In October 2018, the owner of the trucking company was charged with violating federal and provincial safety regulations.
Contact a Truck Crash Attorney
Have you or a loved one been injured by another person's careless acts? If so, it is essential that you have competent legal representation from the onset of your case through litigation. Big insurance companies have lawyers looking out for their interests and you should too!
For a free consultation, contact a NH truck crash lawyer at the Law Office of Manning Zimmerman & Oliveira PLLC. We may be reached at 603-624-7200, by email at info@MZLawNH.com, or by using the "contact us" or chat feature on our website.
Experienced. Knowledgeable. Personally Committed to Justice.