NH Injury Lawyers Discuss Toy Safety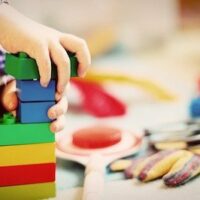 Protect Smiles: Buy Safe Toys
The annual Trouble in Toyland survey provides toy safety guidelines and buying tips. [Download report]
According to the NH injury lawyers at Manning Zimmerman & Oliveira PLLC, U.S. consumers spent about $20 billion on toys in 2017 with projections for a seven percent increase in sales for 2018. In short, toys are big business. The downside: a market flooded with toys that, in some cases, are not tested for safety.
Fortunately for American toy buyers (and kids), the definitive annual toy safety survey from the U.S. Public Interest Research Group (U.S. PIRG) is here. For more than 30 years, the Trouble in Toyland report has identified toys on store shelves that pose potential safety hazards to children. You can download the report here. Key findings this year include:
Toxic Slime: Several popular 'slimes' on the market have levels of boron that are 15 times the level recommended by the European Union. According to the United States Environmental Protection Agency, ingesting boron can cause nausea, vomiting, rashes and seizures. [Download report]
Missing Choking Warnings: Among children's toys and products, balloons are the number one cause of suffocation death. [Download report] However, in a survey of five search pages for balloons sold on Amazon, U.S. PIRG found no choking hazard labels on 87 percent of the latex balloons marketed to parents of children under two. This is a violation of the law. Never let a child under the age of three play with balloons.
Smart Toys Can Be TOO Smart: Websites, apps, and smart toys are all capable of collecting information about users. This includes children under 13. Earlier this year, the Federal Trade Commission charged electronic toymaker VTech with collecting personal data on hundreds of thousands of children without parent consent or knowledge. It was also alleged that a hacker gained access to that data during a security breach in 2015. Amazon's popular children's tablet, the Amazon Fire HD Kids Edition, can share a child's private information with third parties for advertising purposes while not deleting the data it stores.
Keeping Kids Safe
Onward and upward to the toy store! If you are shopping for kids this holiday season, our NH injury lawyers urge you to be sure to keep this safety checklist handy – and check it twice.
Toys with sound: If a toy is too loud for you, it could be loud enough to damage your child's hearing. Test toys to make sure the sound level isn't painful.
Ingredients: Read labels on the back of toys to look for dangerous ingredients or chemicals. If these substances are ingested your child could get very sick.
Toys with small parts: Toys marketed to children six and above may contain small parts that pose choking hazards for younger children. Look for age guidelines. "Hatching" toys are very popular, but the break-apart packaging can create very small pieces. Before your child plays with a toy for the first time, see if smaller parts fit through a toilet paper roll. This is a great test to indicate if there is a possible choking hazard.
Smart Toys: Sites, apps, games and smart toys might be collecting private data from your child and could be hacked. Always evaluate privacy policies before using, and monitor any data requested on your child.
Makeup: "Children's" makeup is not considered a toy, so it is not regulated at the same level. Avoid makeup for kids.
Previously owned or older toys: Search for recalls on older toys to ensure a safe gift.
Contact the Experienced NH Injury Lawyers at the Law Office of Manning Zimmerman & Oliveira PLLC
If you have been injured by another person's careless acts, contact the experienced NH injury lawyers at the Law Office of Manning Zimmerman & Oliveira PLLC. We may be reached at 603-624-7200 and by email at info@MZLawNH.com. You may also use the "contact us" or chat feature on our website.
It is essential that you have competent legal representation from the onset of your case through litigation. Big insurance companies have lawyers looking out for their interests and you should too!
Experienced. Knowledgeable. Personally Committed to Justice.