Do I Still Have a Personal Injury Claim If I Am at Fault Too?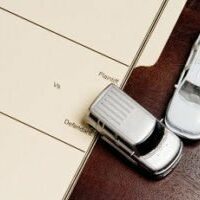 The most common questions we receive in a personal injury claim are "How do I prove my case?" and "What is my case worth?" Which party is at fault determines what financial recovery you have a right to in any personal injury case. New Hampshire follows a comparative fault system. That is, the amount of liability of all parties involved in a case and the amount of the plaintiff's financial recovery is determined by the degree of fault of each party.
Determination of Fault
Comparative fault law seeks to determine which party is, more or less, at fault for your injuries. During settlement negotiations or in a lawsuit, it is not unusual for the defendant(s) to allege that the plaintiff is partly or completely at fault for any injuries they may have suffered.
Calculating Damages
Say you are walking through a grocery store talking on your cell phone and you slip and fall on a wet floor because it was not properly cleaned. In this situation, a possible outcome could be some liability by the store because of their failure to clean up the wet floor or to properly warn that it was unsafe. However, if it can be proven that you were not paying attention because you were talking on your cell phone when you fell, the percentage of the store's liability could be reduced.
In this case, if the store was found to be 80% at fault and you were found to be 20% at fault, any financial settlement or award would be reduced by 20%. Therefore, if a jury awards you $100,000, the amount would be reduced by $20,000. However, if you were found to be more than 50% at fault, the law does not allow for you to recover for your injuries.
Preserving Evidence of Liability in Your Personal Injury Claim
There are many things you can do to preserve the evidence in your case. This is true whether you are in settlement negotiations, a jury trial, or arbitration.
Photograph the accident scene
If you are able, take as many photographs as possible of the crash scene from different angles. In a NH car accident case, take pictures of where the vehicles came to rest and the damages to all the vehicles involved in the crash. Also photograph property damages, skid marks, and grooves in the road or dirt. If you fell in a supermarket from liquid on the floor, take a picture of the area, especially if there were no warning signs in place. If you were injured from a defective product, take a picture of the product and the product packaging.
Obtain police or incident reports
If you reported the accident to the police or business owner, a report should have been generated. Obtain a copy of that report. The police report should include a description of the crash, identification of the parties involved, and any witnesses. It should also include witness statements, a diagram of the crash if necessary, whether any party was transported to a medical facility, and the police officer's investigative findings. An incident report from the business owner should include your description of the accident. Be sure to include any complaints of injuries, along with the incident date, time and location. Some incident reports may also include an employee's own investigation, such as confirming whether liquid was present.
Obtain any video-recordings or photographs
Witnesses may have photographed or video-recorded the accident or incident. Traffic cameras or security cameras may have also recorded the accident. Seek a copy of the video recording or photographs or have an attorney demand preservation of that evidence. This must be done as soon as possible since witnesses may delete any evidence they may have. Video recordings may be erased from traffic or security cameras that are usually set in a loop, so after a specified amount of time, the recording would be recorded over by more current data.
Obtain witness information
If possible, ask for the full name, address and telephone number of all witnesses.
Contact a Injury Attorney to Discuss Your New Hampshire Personal Injury Claim
If you were partly at fault for an accident that caused your injuries, speak to the experienced New Hampshire personal injury attorneys at the Law Office of Manning Zimmerman & Oliveira PLLC to discuss your personal injury claim. It is essential that you have competent legal representation from the onset of your case through litigation. Big insurance companies have lawyers looking out for their interests and you should too. Call 603-624-7200 today for a free initial consultation.
To subscribe to our newsletter, click here. We are also on Facebook and you can follow us on Twitter.
Experienced, Knowledgeable & Personally Committed to Justice