Share the Road: Motorcycle Accidents Can Be Prevented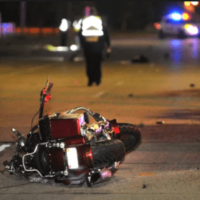 Please Share the Road to Help Prevent Motorcycle Accidents
Fall is a beautiful time of year, especially here in the great state of New Hampshire. With the foliage comes more traffic to the roads, especially motorcycles. So it's time to ask yourself if you are sharing the road and taking strides to help end motorcycle accidents.
The Truth Hurts
According to the National Highway Traffic Safety Administration (NHTSA), in 2016 there were 5,286 motorcyclists killed in traffic crashes nationwide. This is a 5 percent increase from 2015 (5,029). Motorcycle deaths have been on a steady increase over the last three years. Motorcycle death related accidents have accounted for 14 percent of total highway fatalities.
It is incredibly important for both motorists and riders to share the road and to take precautions to avoid fatal accidents.
What Motorists Need to Know
Driving a motorcycle and driving a car are two vastly different experiences. All motorists need to be aware of safety challenges faced by motorcyclists. The size and visibility on a motorcycle are completely different of that in a vehicle. Motorcycle riding practices also alter the reaction time speed and results.
Research and State-level data has identified that other motorists (not the motorcycle driver) are at-fault in more than half of all multi-vehicle motorcycle-involved accidents. Not to mention that NHTSA-funded research has shown that people behind the wheels of passenger vehicles are distracted more than 50 percent of the time. It cannot be stressed enough that, not only for motorcyclists' safety, but for everyone on the road, distracted driving is detrimental and fatal in many instances.
Motorcyclists Take Action
All motorcyclists need to be prepared and defensive drivers on the road. Pay attention to your surroundings and other drivers on the road. Take into consideration weather and temperatures upon riding. During fall, wet leaves can lead to slick conditions while riding. The best thing you can do to protect yourself is to use a DOT-approved motorcycle helmet. Doing so just might save your life!
They're Not Just Warnings, it's Real Life
As we regularly represent motorcyclists and their families, the motorcycle accidents attorneys at the Law Office of Manning Zimmerman & Oliveira PLLC are grateful for the family of Michael Phelps. Michael was a beloved retired teacher from Concord who was killed on his motorcycle by a distracted driver. His family has shared his story (below) in an effort to help educate others and saves lives. No one ever assumes they will be in a horrific accident and no one ever thinks they could ever be the cause of one. The sad truth is it happens. The personal injury attorneys at the Law Office of Manning Zimmerman & Oliveira PLLC ask everyone to please end distracted driving to help save lives.
Contact Experienced New Hampshire Motorcycle Accidents Attorneys for a Free Consultation
If you have been injured by another person's careless acts, contact the experienced NH motorcycle accidents lawyers at the Law Office of Manning Zimmerman & Oliveira PLLC. We may be reached at 603-624-7200 and by email at info@MZLawNH.com. You may also use the "contact us" or chat feature on our website.
It is essential that you have competent legal representation from the onset of your case through litigation. Big insurance companies have lawyers looking out for their interests and you should too!
Experienced. Knowledgeable. Personally Committed to Justice.