NH Injury Attorneys: Celebrating a Safer, More Just America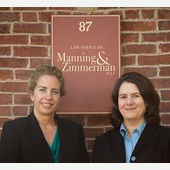 The NH injury attorneys at Manning Zimmerman & Oliveira PLLC are pleased to present the 2018 Justice Served Awards. These recognitions honor each of these nominees for their commitment to a safer, more just America.
Holding Human Traffickers Accountable for Their Crimes
Martina E. Vandenberg is the founder and president of The Human Trafficking Legal Center (HT Legal), a pro bono legal organization that trains lawyers to provide legal support to human trafficking victims. Vandenberg and HT Legal hope to decrease human trafficking, estimated to affect more than 400,000 people in the United States, through three objectives:
Hold the U.S. government accountable. The government rarely prosecutes human trafficking cases, and even when it does, victims often are denied financial restitution. HT Legal conducts research to expose failures in the system, reach out to prosecutors and drive legal reform.

Deter human traffickers by forcing them to pay compensation to victims. Even if traffickers are not prosecuted for criminal charges, there is another option for victims: civil litigation. HT Legal trains attorneys willing to represent victims at no cost and seek damages from traffickers and third parties that benefit from trafficking.

Challenge impunity through strategic litigation. HT Legal and its partners use strategic litigation as a catalyst for this change by forcing government action, driving legal reform, punishing perpetrators and compelling companies to end or prevent abuses in their business practices.
Through HT Legal, Vandenberg has trained more than 3,200 pro bono attorneys nationwide to handle human trafficking cases.
Stemming the Tide of Opioid Abuse Through Litigation
Mike Moore is a lawyer and former attorney general for Mississippi. In 1994, Moore was the first state attorney general to sue the tobacco industry for lying about nicotine addiction and to hold companies accountable for the cost to the public of treating sick smokers. He persuaded lawyers and other AGs from across the country to take on Big Tobacco, resulting in a $246 billion settlement, still the largest in U.S. history.

Last year, Moore decided to turn his sights on Big Pharma and the opioid abuse epidemic. Deaths from prescription opioids – drugs like oxycodone, hydrocodone, and methadone – have quadrupled since 1999. Moore and his colleagues argue that the original marketing for OxyContin (by drugmaker Purdue) as non-addictive was based on questionable research. Since then, more than 400 cities, counties and Native American tribes have filed lawsuits against pharmaceutical manufacturers, distributors and pharmacy chains. As with the settlement from Big Tobacco, Moore hopes to take any damages awarded and put it toward opioid abuse education and prevention.

Forced arbitration clauses, which are now used by a wide range of companies, are now found in over 55 percent of employment contracts. Instead of going to court, employees must settle the dispute in secret arbitrations, usually by an arbitrator chosen by the defendant. In cases of sexual assault or harassment, these forced arbitration clauses can protect harassers from public consequences, opening the door to serial and long-term harassment.

Forced arbitration clauses not only protect abusers from a court of law, but also silence employees from speaking publicly once through arbitration. Gretchen Carlson, a former Fox News anchor, sued Fox News after she was fired for allegedly refusing sexual advances from Fox News Chairman Roger Ailes. Fox attempted to have her claims adjudicated in closed-door mandatory arbitration instead of court, effectively requiring that the details of her case be legally hidden from the public. Since settling her lawsuit with Fox News, Gretchen Carlson has been an advocate for legislation that prohibits forced arbitration clauses in employment and consumer contracts.

Walter Huang died on March 23 after his Tesla Model X, which had engaged its Autopilot system, crashed head-on into a barrier on Highway 101 in California. Walter was a 38-year-old engineer, husband, and father of two young children. When Walter's wife, Sevonne, saw the crash on the news, she knew right away it was her husband. Sevonne said she not only recognized his car, but knew that her husband was involved when she saw where the crash occurred. Walter had previously complained about the car moving toward that same barrier while on autopilot before the crash.

Despite settling a class-action lawsuit with several Model X and Model S customers, which alleged that the assisted-driving Autopilot system was "essentially unusable and demonstrably dangerous," Tesla still blamed Walter Huang for the crash in a statement. Sevonne has hired a firm to sue Tesla in an effort to bring them to justice and prevent future crashes. "I just want this tragedy not to happen again to another family," she said.
About the Justice Served Awards
The Justice Served Awards celebrate the stories of injured people, their families, and advocates who make a difference in protecting the health, safety, and legal rights of others by helping to:
Uncover negligence or other irresponsible behavior by organizations that put their interests ahead of the public interest;

Prompt government action by shedding new light on defective products, services or other practices;

Trigger manufacturing and quality assurance practices that lead to safer products and services; and

Increase public awareness that helps prevent additional injuries and protect an individual's right to civil justice in a court of law.
Contact Experienced NH Injury Attorneys for a Free Consultation
Have you or a loved one been injured due to another person's careless acts? If so, it is essential that you have the competent legal representation of NH injury attorneys from the onset of your case through litigation. Big insurance companies have lawyers looking out for their interests and you should too!
For a free consultation, contact the NH injury attorneys at the Law Office of Manning Zimmerman & Oliveira PLLC. We may be reached at 603-624-7200 or by email at info@MZLawNH.com. We may also be contacted by using the "contact us" or chat feature on our website.
Experienced. Knowledgeable. Personally Committed to Justice.

The NH injury attorneys at the Law Office of Manning Zimmerman & Oliveira PLLC invite you to subscribe to our newsletter. You can also follow us on Twitter.