Motorcycles Are Part Of New Hampshire Life – Please Help Keep Riders Safe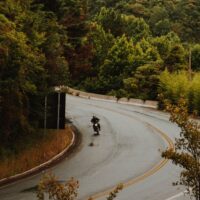 This post is a reflection on the events of the last few days here in New Hampshire, rather than our typical educational blog post. Here at the Law Office of Manning Zimmerman & Oliveira PLLC, we want the roads to be safe for all those that use them. Just two weeks ago, as Bike Week was starting, we posted on motorcycle safety. Then, just three days ago, the tragic death of seven people in a single crash has demonstrated just how far we still need to go. Our hearts go out to all those who were impacted by this terrible crash. Anna Goulet Zimmerman & Maureen Raiche Manning
---
Springtime means the snow has melted, the roadways are clear, and once again the sound of pipes can be heard as motorcyclists return to the roadways. As the weather gets nicer, the State gears up for Motorcycle Week in Laconia. The long summer days are filled thereafter with motorcyclists sightseeing, riding for charity, or otherwise enjoying New Hampshire's great outdoors.
The tragic truth is that a crash between a car or truck and a motorcycle often has far more serious consequences than a crash between two larger vehicles. No matter how careful a rider might be, he or she is no match for a negligent driver in a car or truck. This reality has never been more clear than now, as we all await the full investigation of the crash that killed seven and injured three others; while the driver of the truck that is alleged to have crossed over the center line is reported to have walked away without injuries and returned home safely to his family.
While we know the driver has been charged with seven counts of manslaughter, these charges still leave many questions unanswered.
The victims and their families have a right to know what caused the truck to come into their lane. Was it a distracted driver? Was it fatigue? Was the driving under the influence of drugs or alcohol? What policies did the employer have in place to test for illegal drug use and/or to make sure its employees weren't driving while distracted or tired? Were these policies enforced? These are all questions the families involved will be looking to have answered in the upcoming months. They are also questions we should all care about, as only by holding unsafe employers and drivers responsible for dangerous conduct do the roads become safer for us all.
At the Law Office of Manning Zimmerman & Oliveira PLLC, we have helped many motorcyclists who have become the victims of other's negligence and have an attorney on staff who holds her own motorcycle license. We have seen too many people hurt because other drivers weren't careful, and we hope that everyone that reads this post will commit to driving more safely and watching for the riders that share the roads with us every day. Riders' lives literally depend on other drivers safely operating their cars and trucks.
If you or someone you know has been injured in a crash involving a motorcycle, we encourage you to speak with an experienced attorney.