How to Establish Fault in Car Accidents in Work Zones?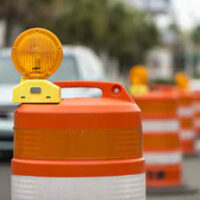 If you have been driving in Manchester or elsewhere in New Hampshire this summer, you may have noticed a lot of new work zones all across the state. Many companies take advantage of warm weather in order to complete construction projects, which is why you might see more construction, maintenance, and repairs on roadways and highways.
But who can be held responsible for accidents that occur in work zones in New Hampshire?
Who's at Fault in Work Zone Car Accidents in New Hampshire?
It is critical to review all the facts surrounding your work zone car accident in order to determine liability and establish fault in New Hampshire. Typically, however, there may be two parties at fault in road work zone accidents:
A driver; and
A construction company.
A Driver's Fault in Work Zone Accidents
A large percentage of auto accidents in work zones are caused by a driver's negligence. Many work zone accidents are caused by:
Collisions with construction equipment;
Failure to yield the right-of-way to other motorists;
Failure to maintain a safe distance;
Exceeding the posted speed limit;
Improper lane changes or merging;
Failure to obey warning signs; and
Getting distracted behind the wheel.
When another driver caused your car crash in a road work zone in Manchester or elsewhere in New Hampshire, you can make a claim with the at-fault driver's insurance company to seek compensation.
A Construction Company's Fault in Work Zone Accidents
A construction company's negligence can also cause or contribute to work zone accidents in New Hampshire. Companies are also responsible for the actions of their workers at the construction site.
Some of the examples of a construction company's fault in a work zone car crash include:
Improper detour instructions or lack thereof;
Missing or unclear traffic warning signs;
Improper indication of which road lanes are open and which are closed;
Failure to remove its construction equipment or other hazards from the open lanes; and
Failure to maintain the work zone in a safe condition.
If a construction company or its workers or contractors were negligent, and their negligence caused a car crash, the injured person can bring a claim against the liable entity to recover damages.
Have You Been Injured in a Road Work Zone Car Accident in New Hampshire?
As mentioned earlier, many car accidents in work zones occur due to negligence on the part of a motorist. Common types of road work zone crashes are:
Rear-end crashes
Sideswipe (T-bone) accidents
Collisions with construction equipment and vehicles
In some work zone accidents, there may be multiple at-fault parties. For example, if the construction company failed to install proper warning signs around a work zone while another motorist got distracted while driving, both parties may be held liable for your injury.
If you were injured in a work zone accident in Manchester or other parts of New Hampshire, it is vital to speak with an experienced car accident attorney to review the details of your case and establish fault in your situation. Contact our Manchester car accident lawyers at the Law Office of Manning Zimmerman & Oliveira PLLC to determine liability in your road work zone car crash. Call at 603-624-7200 or 800-984-3151 to schedule a case review.
https://www.manningzimmermanlaw.com/heres-why-you-shouldnt-hang-your-face-mask-from-the-rearview-mirror/