ATV Accidents Are on the Rise in New Hampshire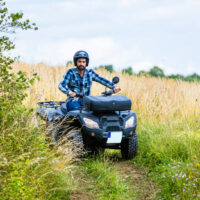 The warm months – May through September – account for the vast majority of ATV accidents in New Hampshire and other states. ATV riding has become one of the most popular summer activities in the United States, but the latest reports show that ATV accidents have been on the rise in NH.
At least five reported accidents involving ATVs (all-terrain vehicles) occurred in New Hampshire within just three weeks. If you were hurt in an ATV crash in Manchester or other parts of NH, you might be able to pursue a personal injury claim to seek compensation.
ATV (All-Terrain Vehicle) Accidents in New Hampshire
A New Hampshire conservation officer was critically injured after being struck by an ATV in the town of Dummer. The collision occurred on Dummer Point Road, which can be used by off-road riding. The Fish and Game conservation officer was attempting to stop two ATVs traveling at "excessive speed" when he was hit from behind by a third all-terrain vehicle, according to WGME. The officer was ejected from his patrol ATV after the collision.
A few days earlier, New Hampshire Fish and Game officers responded to a collision in which an ATV rider was thrown from his motorized vehicle and sustained serious injuries. An investigation determined that the 75-year-old ATV rider of Piermont was attempting to climb a steep bank out of his driveway when the accident occurred, according to Patch. At one point, the ATV began to roll over backward and threw the rider off the machine.
Less than a week earlier, a Merrimack man was thrown from his all-terrain vehicle after driving into a stump in Hopkinton. The accident occurred on the Boundtree trail system when the rider hit the stump and lost control of the vehicle, which caused him to be thrown from the ATV, as reported by Patch.
Less than two weeks prior to the Hopkinton accident, opening day of the off-road trails in Jericho Mountain State Park led to two ATV crashes. The first accident occurred on the Brook Road Trail at around 8:30 a.m. A 25-year-old ATV rider lost control of the motorized vehicle and slammed into a tree. Excessive speed is believed to be the primary contributing factor in the ATV accident.
About two hours later, a second ATV crash was reported in the park on the Twista Vista Trail. A female rider lost control of the ATV for an unknown reason, which caused the machine to roll over and land on top of her, according to Patch.
Fault and Liability in ATV Accidents in New Hampshire
ATV riding can be more dangerous than driving a motor vehicle because riders are operating their machine on rough terrain and steep grades. There is a higher risk of being injured in an ATV crash than in a car accident.
However, an ATV rider can reduce the risk of injury by riding on familiar trails, paying attention to all signs, and riding below the speed limit. But even if one ATV rider is riding safely, they can still be injured in a collision with another rider who fails to exercise due care.
If you were injured in an ATV accident, you should discuss fault and liability with a knowledgeable Manchester personal injury attorney. Contact our experienced lawyers at the Law Office of Manning Zimmerman & Oliveira PLLC to schedule a case review. Call at 603-624-7200 to establish fault.
Resources:
patch.com/new-hampshire/nashua/nashua-man-brookline-woman-injured-atv-accidents
patch.com/new-hampshire/concord-nh/merrimack-man-injured-hopkinton-atv-crash
patch.com/new-hampshire/concord-nh/atv-driver-thrown-injured-while-climbing-hill
https://wgme.com/news/local/nh-conservation-officer-serious-injured-after-being-hit-by-atv
https://www.manningzimmermanlaw.com/accident-with-a-ups-vehicle-can-the-company-be-held-liable/