The Side Effects of E-Cigarettes
E-Cigarettes are Unhealthy, Addictive and Maybe Even Explosive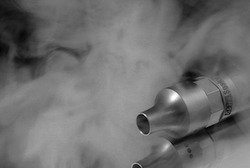 The use of e-cigarettes has skyrocketed in the last few years. About 10 percent of U.S. adults now vape, as the practice is called, almost four times more than the 2.6 percent reported by the government in 2013. And that growth means big business: Sales are estimated at $3.5 billion for 2015 versus $2.5 billion in 2014 and are projected to grow 25 percent annually through 2018.
E-cigarettes use a heating element to vaporize liquid nicotine that is then inhaled by the smoker. Many smokers view them as a way to quit smoking traditional cigarettes, avoid some of the health hazards caused by regular cigarettes, or as an alternative to smoking in public places that ban the practice.
No Regulations or Warnings on E-Cigarettes
So far e-cigarettes are entirely unregulated by the U.S. Food and Drug Administration, a fact that surprises many users. Both the vaporizing devices and the nicotine-based liquid itself are unregulated, so manufacturers create and disperse products with no oversight. There are already more than 500 different brands of e-cigarettes, with over 7,700 flavors of nicotine liquid. The amount of nicotine in the liquid, as well as other dangerous chemicals or carcinogens, are not monitored and are not required to be represented accurately on the packaging. Nevertheless, research cited by the American Lung Association highlights the significant health risks posed by the nicotine and other hazardous chemicals found in this cigarette alternative.
E-Cigarettes Use Triples Among Teens
The fastest growing segment of e-cigarette users are teens and young adults. Between 2013 and 2014, e-cigarette use tripled from 4.5 percent to 13.4 percent for teens, followed by an increase among middle schoolers from 1.1 percent to 3.9 percent during the same period.
Officials with the Centers for Disease Control and Prevention expressed extreme alarm at the findings, pointing out the harm nicotine exposure can pose to brain development among young people along with the potential for long-term addiction. Public health advocates also fear that unregulated advertising in print and on television by e-cigarette companies is making the product look