Can You Sue For An ATV Crash In New Hampshire?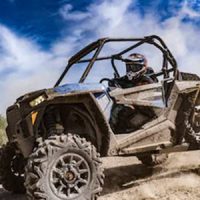 ATVs have been around for many decades, and they continue to provide exceptional thrills for Americans of all ages. Part of the thrill is the knowledge that this is not a normal car, and that an ATV is open to the elements. Unfortunately, accidents can happen when people ride ATVs in New Hampshire, and these accidents can often lead to serious, life-altering injuries. So, what should you do if you have been injured while riding an ATV in New Hampshire? Can you get compensation for your injuries?
Your first step should always be to get in touch with a qualified, experienced personal injury attorney in New Hampshire, as these legal professionals can answer any questions you might have. In addition, they can discuss your options with you in a confidently manner. With their help, it may be possible to receive a settlement for your damages. This settlement can pay for medical expenses, missed wages, pain and suffering, emotional distress, and much more. Book your consultation as soon as possible for best results.
 Teen Hospitalized After ATV Accident in New Hampshire 
ATV accidents are relatively common in New Hampshire. On August 16th, it was reported that a 15-year-old child had been flown to a nearby hospital after flipping his ATV in New Hampshire. The boy was allegedly thrown from his vehicle after going off the trail, and he was part of a group of eight off-roaders that day. According to one eyewitness report, the vehicle flipped several times before hitting the boy. This represents a classic ATV accident and the most notable risk associated with these incidents: being struck by the heavy vehicle after falling from it.
How Can You Sue for an ATV Accident?
 One way in which you  may be able to get compensation after an ATV accident is by suing the driver. For this approach to work, however, you need to have been a passenger on the vehicle, or have been struck by an ATV being operated by someone else. 
Enlist the Help of a Qualified Attorney Today
 If you've been searching for a skilled Manchester personal injury attorney, look no further than the Law Office of Manning Zimmerman & Oliveira, PLLC. Over the years, we have assisted numerous legal crash victims, and we know how serious ATV accidents can be. If you'd like to explore your legal options in more depth, reach out and book your consultation today. We can guide you towards a fair settlement in a confident, efficient manner.
Sources:
newscentermaine.com/article/news/regional/new-hampshire/teen-flown-to-hospital-after-new-hampshire-atv-crash-trail-outdoors/97-b4626deb-9b42-4326-86b0-8ddfae150c84
statcan.gc.ca/n1/daily-quotidien/210607/dq210607d-eng.htm#:~:text=Among%20all%20ATV%2Drelated%20fatalities,in%209%25%20of%20fatalities