After Attorneys Fees, Medical Bills and Other Costs, Will There Be Anything Left for Me?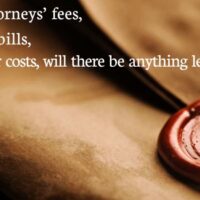 If you are contemplating hiring a Manchester personal injury attorney, you may wonder whether there will be any money left for you after attorney fees, medical expenses, and other costs are paid following a settlement or court judgment in your favor. The reality is that this is one of the most commonly expressed concerns of people like you debating retaining the services of an experienced Manchester personal injury attorney.
Calculating Attorney Fees
As a matter of practice, a Manchester personal injury attorney bases the calculation of attorney fees upon a percentage of the actual settlement or judgment obtained by you in a case. In addition, those attorney fees are not due and owing until you actually obtain a settlement or judgment in your favor. Before retaining a Manchester personal injury attorney, you reach an agreement with that lawyer regarding the percentage that will be paid. In this way, you understand exactly what your obligation is in regard to attorney fees before you engage such a professional.
Costs of the Case
In pursuing a personal injury case, certain costs are incurred. Typically, a Manchester personal injury attorney pays on your behalf these various costs. For example, you may need a medical expert to testify on the extent of your injuries and how they impact your life today and into the future. These costs will be deducted from any settlement or judgment you receive in a case. This money is used to reimburse the lawyer who paid these costs on your behalf in the first place.
Medical Expenses
As part of a settlement or judgment in a lawsuit, a specific allocation is made to cover medical bills incurred to date as well as medical expenses reasonably expected to be faced in the future. A skilled and experienced Manchester personal injury attorney is adept at reaching a settlement or obtaining a judgment that includes enough compensation to cover medical expenses without encroaching on other elements of compensation awarded to you via a claim or lawsuit.
Contact a Manchester Personal Injury Attorney
The surest way to ensure that you obtain the compensation you are entitled to after suffering a personal injury because of someone else's negligence, is by contacting the Law Office of Manning Zimmerman & Oliveira PLLC. The firm can be reached by phone at 603-624-7200. A Manchester personal injury lawyer from the firm will schedule an initial consultation at no cost to you.