5 Best Bike Paths in New England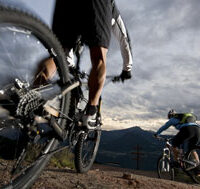 Discover the best sights in New England by bike
The weather is finally warming up, but the heat of summer is far away, so now is the perfect time to explore the beauty of New England by bike. Try one or more of the following five bike paths to help you discover more in your own state or to begin exploring another.
Ashuelot Rail Trail (New Hampshire)
This trail has so much to offer, providing bikers with all of the quintessential features that make New England so special. You will be treated to beautiful forest views, wildlife and several covered bridges on the 22-mile route that traces the former Ashuelot Railroad. The trailhead starts near Keene State College, making it perfect for students and their visiting families as well as other tourists. Don't miss out on this exceptional trail.
Acadia National Park Carriage Roads (Maine)
The beauty of Acadia National Park draws in tourists from all over the world, so if you are lucky enough to live in New England, you have to make a point to visit as soon as possible. One of the best ways to explore all of the diverse beauty that the park has to offer is by traveling the famous Carriage Roads, where you will share the stunning views with plenty of other bikers, pedestrians and even horses. There are some portions of the Carriage Roads that don't permit bikes, so be sure to read all the information found at the above website.
Burlington Bike Path (Vermont)
The Burlington Bike Path allows urban explores to experience all that Burlington has to offer while remaining safe on designated bike paths for the majority of the route. You will be able to immerse yourself in nature as well as city life while on this path, because it provides amazing views of the Adirondacks and Lake Champlain.
Minuteman Bikeway (Massachusetts)
All of New England is filled with sites of historic significance, and maybe no state more so than Massachusetts. The Minuteman Bikeway is slightly over 10-miles long and passes through several historic suburbs of Boston including Lexington. It attracts tourists from all over the country who are interested in learning more about the pivotal Revolutionary War events that happened in the area.
Blackstone River Greenway (Rhode Island) This trail is part of a corridor project that is intended to provide natural pathways for animals traveling between Rhode Island and Massachusetts. This portion of the corridor contains an approximately 12-mile bike path that offers bikers innumerable picturesque views, so don't forget your camera at home. It travels along historic canals, former railroad brides and even has convenient parking at several points.
New England has so much to offer, so be sure to take advantage of that fact by heading out on one of these bike trips! As always, remember to wear a protective helmet, be particularly careful when crossing intersections, and maintain an acute awareness of your surroundings.
Contact a NH Biking Accident Lawyer
Despite these precautions, however, bicycle accidents are a reality that even the most careful cyclist cannot always avoid – particularly in light of the most recent statistics concerning distracted driving and its consequences. If you were recently injured while riding your bicycle, a NH biking accident lawyer at the Law Office of Manning Zimmerman & Oliveira PLLC is the best resource for you as you consider a possible personal injury lawsuit against the driver responsible for your injuries and property damage.
It is essential that you have an experienced NH biking accident lawyer representing you from the onset of your case through litigation. Big insurance companies have lawyers looking out for their interests and you should too. Call a NH biking accident lawyer at the Law Office of Manning Zimmerman & Oliveira PLLC at 603-624-7200 today for a free initial consultation.
To subscribe to our newsletter, click here. We are also on Facebook and you can follow us on Twitter.
Experienced, Knowledgeable & Personally Committed to Justice
This article is presented, in part, courtesy of Bonneville & Son, Inc.