Truck Crashes and Fatalities on the Rise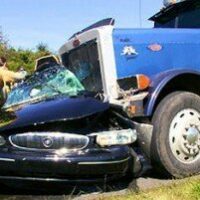 According to the Federal Motor Carrier Safety Administration, the rate of truck crashes and fatalities has begun to creep up after several years of decline. In 2011, the most recent year for which data are available, 3,757 people died in collisions with trucks, an 11.2 percent increase over 2009's record low. Nearly three times as many people die in truck crashes as die in aviation, boating, and railroad crashes combined. For more information, see this Truck Safety Alert published by the American Association for Justice.
Contact Experienced NH Truck Crashes Attorneys for a Free Consultation
Have you or a loved one been injured due to another person's careless acts? If so, it is essential that you have competent legal representation from the onset of your case through litigation. Big insurance companies have lawyers looking out for their interests and you should too!
For a free consultation, contact the NH injury attorneys at the Law Office of Manning Zimmerman & Oliveira PLLC. We may be reached at 603-624-7200 or by email at info@MZLawNH.com. We may also be contacted by using the "contact us" or chat feature on our website.
Experienced. Knowledgeable. Personally Committed to Justice.
The NH injury attorneys at Manning Zimmerman & Oliveira PLLC invite you to subscribe to our newsletter. You can also follow us on Twitter.