NH Truck Crash Attorney: What Happens When you Get Hit By a Company Truck?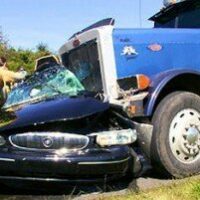 What happens when you get hit by someone who is driving a company truck? Who is responsible? The fact is that anyone who is injured as the result of the employee driver's negligence may sue the driver's employer. According to NH truck crash attorney Maureen Manning, the ability to do so is based on the principle of law known as "respondent superior," which makes employers responsible for the acts of their agents if the injury is caused while the agents were acting within the scope of their employment. This rule, also known as the "Master-Servant Rule," may not apply, however, if an employee is on his or her way home from work. At that point, an employee is usually acting on his or her own.
Our civil justice system provides for a victim of negligence to recover full, fair and adequate compensation for their injuries from the wrong doer. Often there is insurance to cover this compensation. The Law Office of Manning Zimmerman & Oliveira PLLC handles cases in all areas of personal injury law, and work diligently to ensure our clients receive full and fair compensation for their injuries. Please call our office at 603-624-7200 to schedule a free initial consultation. Evening and weekend appointments are available.
HINT: The doctrine of respondent superior (let the one in the superior position be responsible) underlies the form of liability known as "vicarious liability."