How To Improve Visibility in the Snow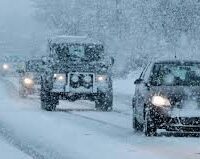 As we all know, it snows in New Hampshire. Sometimes a little, and sometimes a lot. It's great for the skiing industry and our economy, but driving on snow-covered roads can be treacherous and requires patience and focus. According to the NH personal injury attorneys at Manning Zimmerman & Oliveira PLLC, visibility is one of the most important factors in order to avoid a motor vehicle crash when driving on snow-covered roads. The National Highway Traffic Safety Administration (NHTSA) has reported that weather conditions were the critical reason for an estimated 58 percent of the motor vehicle crashes attributed to environmental factors:
• 50% caused by slick roads
• 4% caused by fog, rain, or snow
• 4% caused by other weather-related conditions
Driving in the snow increases the risk of a crash because the roads are wet and potentially ice-covered, and it reduces visibility. You cannot do anything about the roads being snow and ice-covered, but there are steps you can take to improve your visibility.
WIPER BLADES
Make sure you have good wipers that do not scrape or catch on the surface of your windshield. If you have a wiper for the rear window of your vehicle, check it as well. Replace any wipers that are worn out and not effectively clearing your windshield.
WINDSHIELD WIPER CONTROLS
The best wiper blades in the world will not do you any good if your windshield wiper controls are not working. Properly functioning controls are an essential piece of safety equipment for your vehicle. If your wiper controls begin to malfunction, immediately take your vehicle in for repair. Weather can be unpredictable, and having broken wiper controls is an unacceptable risk.
HEADLIGHTS
Your vehicle headlights are vital for your safety. They illuminate your driving path and help other drivers see you. If you are driving with old headlights that have become dull, you may struggle to see in front of you and other drivers may not see you as well in snowy conditions. Also, be sure to remove the snow covering your headlights when cleaning the snow from your windshield and windows. Check these factors, in particular, to make sure your headlights are in good working order:
• Brightness – How well do they light your path?
• Distance – How far down the road can they illuminate?
• Haze – Do you have build-up on the surface of your headlights?
If your headlights are no longer sufficiently doing the job, you can replace the bulbs. Even if only one bulb is not working well, replace the bulbs in both headlights at the same time. This is an inexpensive safety upgrade. If your headlights are covered with a dull build-up, try removing the build-up to improve performance. There are many good products on the market for removing the build-up and then sealing the headlight covers to protect against future build-up. In some snowy conditions, your high beams might cause glare and reflection. If this is the case, consider using your low beams if they provide sufficient illumination.
DEFOGGER
The defogger for your windshield and your rear window need to be working properly to prevent your windows from fogging up and obscuring your view. If your defoggers are not working correctly, take them in for repair right away.
Contact Experienced NH Personal Injury Attorneys for a Free Consultation
Have you or a loved one been injured by another person's careless acts? If so, it is essential that you have competent legal representation from the onset of your case through litigation. Big insurance companies have lawyers looking out for their interests and you should too!
For a free consultation, contact the Manchester injury attorneys at the Law Office of Manning Zimmerman & Oliveira PLLC. We may be reached at 603-624-7200 or by email at info@MZLawNH.com. We may also be contacted by using the "contact us" or chat feature on our website.
Experienced. Knowledgeable. Personally Committed to Justice.
The NH personal injury attorneys at the Law Office of Manning Zimmerman & Oliveira PLLC invite you to subscribe to our newsletter. You can also follow us on Twitter.