New Hampshire Personal Injury Attorneys Selected a "Best Law Firm"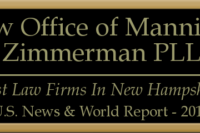 The New Hampshire personal injury attorneys at the Law Office of Manning Zimmerman & Oliveira PLLC are honored to have been selected a "Best Law Firm" by U.S. News & World Report for 2017. Rankings for this recognition "are based on a rigorous evaluation process that includes the collection of client and lawyer evaluations, peer review from leading attorneys in their field, and review of additional information provided by personal injury law firms as part of the formal submission process."
Contact Experienced Personal Injury Attorneys in New Hampshire
New Hampshire Attorneys Maureen Raiche Manning and Anna Goulet Zimmerman have a combined 50 years of experience representing those who have been injured through no fault of their own. They are joined in the practice of law by associate attorney Michaila Oliveira who handles divorce and family law cases at the firm.
There are no up-front costs for our services. All personal injury cases are handled on a contingency basis, meaning that we are only paid for our services if we successfully recover damages from the responsible party. For a free consultation, call 603-624-7200, email us at info@manningzimmermanlaw.com, or use the "contact us" form or chat feature on our website.
To subscribe to our newsletter, click here. We are also on Facebook and you can follow us on Twitter.