New Hampshire Injury Lawyers Discuss Jessica's Law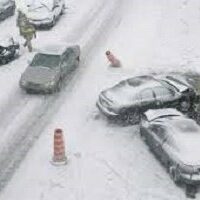 Imagine driving down the highway after a snowstorm. The roads have been cleared and traffic is moving along. Suddenly, snow and ice fly off the vehicle in front of you and strikes your windshield. It's unsettling, dangerous, and can be deadly.
Since 2002, New Hampshire drivers have been legally required to clear snow and ice off their vehicles before getting on the road. According to the New Hampshire injury lawyers at the Law Office of Manning Zimmerman & Oliveira PLLC, Jessica's Law was named after 20-year-old Jessica Smith. She was killed in a car crash in Peterborough after a 9-foot piece of ice flew off a tractor-trailer, hitting a box truck, which crashed head-on into her car.
What is Jessica's Law?
Jessica's Law falls under New Hampshire's broader negligent driving law which means that anyone who "drives a vehicle negligently or causes a vehicle to be driven negligently" or "in a manner that endangers or is likely to endanger any person or property shall be guilty of a violation and shall be fined not less than $250 nor more than $500 for a first offense and not less than $500 nor more than $1,000 for a second or subsequent offense."
In spite of the law, according to statistics provided by New Hampshire State Police, some drivers still don't adequately clear snow and ice from their vehicles. During the month of February, troopers pulled over 268 vehicles under the Negligent Driving Statute, and after a recent snowstorm, one trooper reported stopping 20 vehicles for Jessica's Law violations in just under three hours!
Just last month on Route 202 in Henniker, police reported that snow and ice shattered a motorist's windshield. And in Massachusetts, a 6-year-old girl was injured when a large piece of ice flew off a tractor-trailer. The ice hit the windshield of the vehicle she was riding in on Interstate 495.
In New Hampshire it is your legal responsibility to clear the snow and ice off your car before proceeding onto the roadway. It only takes a few minutes and it can save a life
What You Should Do
But what should you do if snow and ice from someone else's vehicle strikes your vehicle and causes damage? Experts say your safety is always the highest priority. Make sure you have control of your vehicle and that you and your occupants are safe. If you can get the license plate of the vehicle responsible that can be helpful to authorities for their investigation.
"It takes not even five minutes to clean off your car," stated Linda Smith, Jessica's mother, in an interview. "It can take three seconds to kill somebody."
Contact Experienced New Hampshire Injury Lawyers for a Free Consultation
Have you or a loved one been injured by another person's careless acts? If so, it is essential that you have competent legal representation from the onset of your case through litigation. Big insurance companies have lawyers looking out for their interests and you should too!
For a free consultation, contact the New Hampshire injury lawyers at the Law Office of Manning Zimmerman & Oliveira PLLC. We may be reached at 603-624-7200, by email at info@MZLawNH.com, or by using the "contact us" or chat feature on our website.
Experienced. Knowledgeable. Personally Committed to Justice.

We invite you to subscribe to our newsletter. You can also follow us on Twitter.