Manchester Car Accident Lawyer on Proving Fault
An experienced Manchester car accident lawyer at the Law Office of Manning Zimmerman & Oliveira PLLC understands that even seemingly clear-cut cases of fault in a car accident can become muddled if the matter becomes contested. Often, the only individuals involved are you and the other driver, and your ability to recover for your damages and avoid liability will turn on proving that the other driver was the negligent party.
Don't Discuss the Accident
Of course, if there are any injuries, that takes priority over everything else, and you must do whatever is necessary to get the necessary medical care. Additionally, you are required by law to exchange information with the other driver, but be careful what you say. It is quite common and very understandable to be upset and out of sorts after an accident, but your words can be used against you. For example, you may say "I'm okay" meaning simply that you don't need an ambulance although you are sore or uncomfortable. The other driver's insurance company may then try to use this to show you were not injured. After a collision the first priority should be making sure that any emergency medical needs for anyone involved in the crash are addressed. When the police arrive, make sure you provide them with any information you may have about the collision so they can begin fully investigating the cause. If you are having any pain, make sure the police are aware of this as well, and be aware that in some cases emergency medical providers may recognize that medical treatment is necessary although you might not have thought so.
Police Report
If there were injuries or significant property damage, there is a high probability the police responded and a police report was compiled. As a party involved in a car accident, you have a right to request a copy of the accident report. In some cases, the police report will indicate that a citation was issued for a traffic violation. Absent a citation, the police report may indicate that the other driver was in some manner careless in driving and caused the accident. In other instances, the police report may detail the facts of the incident, such as time, weather and location, without indicating if either party was negligent. As a Manchester car accident lawyer will tell you, it is important to remember that the police report is not an absolute indicator of who is liable for the accident, but it can be very persuasive to the insurance adjuster assigned to your claim.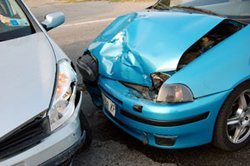 Do Your Homework
If there is no police report, you may find yourself in what is commonly referred to as a "he said/she said" scenario, where you and the other driver have very different versions of what occurred. If so, the more precise you can be in recounting the facts, the better. An experienced Manchester car accident lawyer at the Law Office of Manning Zimmerman & Oliveira PLLC may be able to use these facts to help determine factors such as the speeds of the vehicles, to locate witnesses, or to otherwise help determine who was responsible for the collision.
The Type of Accident
Some accidents, by their very nature, tend to point liability toward one driver over the other. A rear end collision is a prime example. A basic rule of the road requires a driver to operate their vehicle in a manner that allows safely stopping behind another vehicle. The implication is that if your car was struck from behind, the other driver was negligent by following too closely, driving too fast, or simply not paying attention. Similarly, the driver of a car making a left turn is typically considered at fault if he or she collides with a car coming straight from the other direction. Of course, these are generalizations and may be contested by a showing of other facts, which may indicate some fault on the part of both drivers. Under New Hampshire law, your own negligence does not bar your recovering from the other party as long as you were less negligent than the other driver in causing the accident. At the minimum, if you were involved in a rear end or left turn accident, the facts of what occurred are less likely to be disputed.
Contact a Manchester Car Accident Lawyer for Legal Advice
Even a simple fender bender can become a hotly contested matter. Don't rely on your insurance company to look out for your best interests. Get the facts and explore your options by calling the Law Office of Manning Zimmerman & Oliveira PLLC at 603-624-7200.