Crossing and Pedestrian Accidents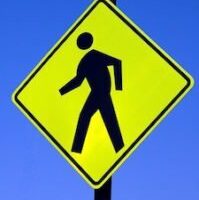 If you were injured in a car crash that did not occur in a crosswalk, a Manchester car accident attorney at the Law Office of Manning & Zimmerman, PLLC may be able to assist you. Many people mistakenly believe they are responsible for their injuries if they were crossing the road at a location other than the crosswalk when the accident occurred. Since drivers have a responsibility to look out for pedestrians at all times, this may not be the case for you.
Burden of Responsibility
Even if you were jaywalking, a vehicle with the right-of-way still has a responsibility to look out for your presence on the road. If he or she was speeding, traveling fast around a blind curve, or traveling in an area with high pedestrian traffic, the right-of-way defense may not be enough on its own. Under some circumstances, pedestrians who are not in a marked crosswalk may have the right-of-way.
Dangerous Violations
A dangerous violation occurs when a vehicle passes a car at an unmarked crosswalk in such a way that the pedestrian is unable to see the other car coming. These crashes often result in serious or even fatal injuries. Your Manchester car accident attorney at the Law Office of Manning & Zimmerman, PLLC may also consider whether the shape of the road led to the crash. Unmarked crosswalks can also lead to confusion since many drivers do not realize that pedestrians have the right to cross. Even if you are determined to be partially responsible for the accident, you may still be entitled to receive compensation for a portion of the damages you sustained. It is possible for both the driver and pedestrian to have some liability in an accident, especially one at an intersection that was not marked. Compensation may cover such costs as medical care, lost wages, lost future earnings, permanent injury and loss of enjoyment of life damages.Law Office of Manning & Zimmerman, PLLC today at 603-624-7200 for assistance from a Manchester Car Accident Attorney you can trust.