Is Drunk Driving Negligence Per Se In New Hampshire?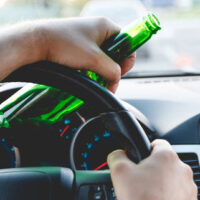 New Hampshire personal injury law recognizes "negligence per se" as one of the types of legal liability for accidents. It is essential to understand when negligence per se applies to your particular case in New Hampshire.
If you have been injured in a car accident caused by a drunk motorist, you might wonder whether or not the drunk driver can be held liable for negligence per se. You should speak with a Manchester car accident attorney to review your particular case and determine whether or not drunk driving is negligence per se in your specific case.
Does New Hampshire Law Consider Drunk Driving Negligence Per Se?
The liability standard "negligence per se" applies to accidents in which a person violates a statute or regulation that has been designed to protect the public. However, in order to prove negligence per se, the injured party must prove that the accident was the result of the defendant's negligent conduct. Although New Hampshire prohibits motorists from operating a motor vehicle when their blood alcohol concentration (BAC) exceeds .08%, the injured person must still prove that the drunk driver was negligent in the operation of their vehicle. For example, if a drunk driver failed to stop at a red light, this would be negligence and negligence per se for failing to follow the traffic laws regarding red lights.
How to Prove Negligence Per Se in a Drunk Driving Accident
In New Hampshire, the fact that the drunk motorist violated the law by getting behind the wheel under the influence of alcohol may be sufficient to prove that the driver's conduct was not reasonable, but the injured party you will still need to prove actual negligence in the operation of the vehicle. This makes sense because, while driving under the influence is a crime, it is not always the cause of an accident. So, if a drunk person is at a red light and waiting for the light to turn green and get's rear ended by someone who is not paying attention, the drunk person is not automatically at fault – in fact, the drunk person could still pursue a claim against the person that crashed into the back of their vehicle.
If you need assistance with proving negligence or negligence per se in a DUI accident, contact a skilled attorney. In addition to proving that negligence per se applies to your drunk driving accident, you also need to establish other elements to obtain compensation for your financial losses.
Why You Need a Manchester Car Accident Attorney
While it may seem that you do not need an attorney, you actually do. You need a Manchester car accident attorney to ensure that you are fairly compensated for your damages.
Your attorney will help you establish a link between the drunk driver's negligence per se and your injury and also estimate your resulting economic and non-economic damages. In fact, you may be entitled to compensation even if the other driver is not charged with a crime for operating a motor vehicle while impaired.
You need an attorney to help you determine whether or not negligence per se applies to your case to get the compensation to which you are entitled. If you have been hurt in a drunk driving accident in New Hampshire, do not hesitate to speak with an experienced attorney.
Get a case review with our attorneys at the Law Office of Manning Zimmerman & Oliveira PLLC by calling 800-984-3151.