Free eBooklet: 11 Factors that Impact the Value of Your NH Injury Claim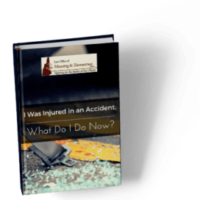 — Quality of medical information.
To file a NH injury claim, the strongest type of medical information is a narrative report from a well-respected medical doctor explaining the nature of your injuries. A narrative report is one in which the doctor uses his or her own words to tell (or "narrate") the story of your injuries, including your diagnosis, treatment, and prognosis. The more detailed, fact-specific, and decisive a narrative it is, the more it will help your case. Broad generalizations or hedging ("maybe" "possibly") will be less helpful. Detailed office notes, typed legibly, also add value to your personal injury claim, as do detailed hospital nurses' notes.
— Type of defendant.
In most cases, you will be dealing with a "good" defendant who made a poor choice or who was not as careful as he or she should have been in that particular moment. Those defendants- e.g., the elderly driver; the mother distracted by her infant crying in the backseat; the neighborhood business owner who didn't see the grape on the floor — tend to lower the value of your case because jurors will have some sympathy for their situation. In these cases, jurors may be hesitant to blame the defendant too harshly, reasoning "There, but for the grace of God . . . ."
— Insurance company.
Just like people, some insurance companies are more generous than others. Large, national insurance companies tend to be very conservative (i.e., tightfisted) with their settlement dollars, especially in smaller cases. These carriers have the resources and the time to take a case to court, even if they know they will lose that particular case and dozens more like it. The cost to defend a minor auto accident case is usually low. Large insurance carriers are willing to pay this price to send a message to other injury victims and their lawyers.
Want to Know More? Contact Our NH Injury Claim Attorneys
Have you been injured through no fault of your own? If so, it is essential that you have competent legal representation from the onset of your case through litigation. Big insurance companies have lawyers looking out for their interests and you should too! The experienced NH personal injury attorneys at the Law Office of Manning Zimmerman & Oliveira PLLC offer free initial consultations to NH injury victims. Call us at 603-624-7200, complete a request for a consultation on our website, or send us an email.
To subscribe to our newsletter, click here. We are also on Facebook and you can follow us on Twitter.
Experienced. Knowledgeable. Committed to Justice.