MANCHESTER ATTORNEY ANNA ZIMMERMAN IS RECIPIENT OF JUSTICE AWARD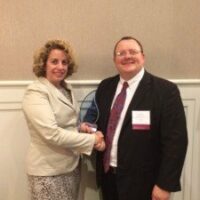 Attorney Anna Zimmerman, partner with the Manchester Law Office of Manning Zimmerman & Oliveira PLLC, is the 2015 recipient of the Board of Governors Award from the NH Association for Justice, a statewide professional association of trial attorneys. Attorney Zimmerman was presented the award at the association's annual meeting and awards dinner on June 26th in Portsmouth.
"I am greatly honored to have been recognized by my professional colleagues," said Attorney Zimmerman, who is also the 2014 recipient of the association's President's Award and it's president-elect. "I am very proud to belong to an association that works to protect constitutional rights and to make sure that all our citizens have a fair chance to receive justice through the legal system when they have been harmed by the acts of others."
The Law Office of Manning Zimmerman & Oliveira PLLC, located at 87 Middle Street in Manchester, NH, handles cases involving all personal injuries, workers' compensation, medical negligence, family law/divorce matters, and Social Security disability. Attorney Anna Zimmerman is joined in the practice of law by her partner, attorney Maureen Raiche Manning, associate attorney Dan McKenna, and of-counsel attorney and UNH Law Professor Emerita Ellen Musinsky.
In addition to the New Hampshire Association for Justice, Attorney Zimmerman is a member of the Manchester Bar Association, New Hampshire Women's Bar Association, and the Zonta Club of Concord. Attorney Zimmerman, who lives with her family in Amherst, NH, is the author of the definitive military divorce guide, Divorce in the Trenches.