Pedestrian Struck by Motorcycle: How Bad Can it Get?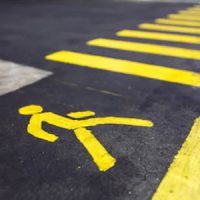 If you gave someone a choice, they'd probably much rather be struck by a motorcycle than a car. After all, motorcycles are lighter and smaller than a car – especially if you're comparing a scooter to an SUV. But the truth is that both vehicles are capable of causing serious, catastrophic injuries for innocent people. In fact, even a small electric scooter is more than capable of taking someone's life. But what kind of injuries might someone suffer after being hit by a motorcycle? What can you do if you are suffering firsthand from these injuries?
Officer Struck By Speeding Motorcyclist in New Hampshire 
On May 30th, it was reported that a speeding motorcyclist had struck a police officer in New Hampshire. The individual was apparently running from the police at the time of the crash, having previously operated his Honda motorcycle in a reckless manner near the Memorial Day parade. Police attempted to stop the speeding bike as it drew closer to the parade, as they were concerned that the crowd of people might be at risk.
One officer stepped in front of the bike and the two collided. The officer suffered serious injuries and was hospitalized, although further details were not revealed. The bike crashed, and the rider suffered minor abrasions after falling to the ground.
What Kind of Injuries Can a Motorcycle Inflict on a Pedestrian?
The most serious motorcycle/pedestrian injuries are fatal. According to a recent study, the most common cause of death in a motorcycle/pedestrian collision is a subarachnoid hemorrhage, a type of brain injury that apparently caused over 70% of all pedestrian fatalities associated with bike impacts. Other common causes of death include cerebral contusions and skull base fractures. Generally speaking, most of these deaths are caused by some kind of Traumatic Brain Injury (TBI). Other common and potentially deadly injuries include serious pelvic fractures or tibia fractures.
There is a serious lack of understanding when it comes to pedestrian/motorcycle accidents compared to normal pedestrian accidents involving cars. This means that it is difficult to design motorcycles with proper safety features that protect pedestrians. These types of accidents will likely continue to cause serious injuries, especially when you consider the rising popularity of two-wheeled, fast vehicles such as e-bikes.
Where Can I Find a Qualified Personal Injury Attorney in New Hampshire? 
If you've been searching for a qualified, experienced Manchester personal injury attorney, look no further than the Law Office of Manning Zimmerman & Oliveira PLLC. Over the years, we have helped numerous injured pedestrians pursue compensation and justice. We know that being struck by a motorcycle can cause serious injuries, and we're ready to fight for your rights. Book your consultation today to get started with an effective action plan.
Sources: 
wgme.com/news/local/officer-seriously-injured-after-being-hit-by-motorcyclist-in-new-hampshire-memorial-day-parade-honda-motorcycle-logan-goodwin-reckless-conduct-disobeying-a-police-officer
upcommons.upc.edu/bitstream/handle/2117/90351/_manuscript_updated.pdf