New Hampshire Drivers Are Required to Clear Snow and Ice from Cars Under Jessica's Law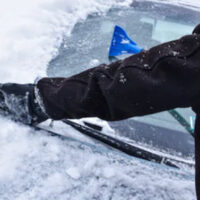 Have you ever had to wake up earlier before work just to scrape snow and ice off the car windshield, before hitting the road? If you live in New Hampshire, you are familiar with that winter ritual more than anyone else.
Law-abiding residents of New Hampshire perform this winter ritual not only because they want to be able to see the road without all the ice and snow over their windshield but also because they are legally required to do so.
Unfortunately, many drivers forget to clear their vehicles before getting behind the wheel, while others simply ignore the importance of removing snow and ice from the vehicle.
Either way, all that snow and ice covering your vehicle could become a road safety hazard if it flies off while your car is in motion.
New Hampshire drivers are legally required to remove ice and snow from their windshields
Many car owners in New Hampshire do not know that they are legally required to remove ice and snow from their car before they begin driving under the so-called Jessica's Law.
A recent accident in Londonderry, New Hampshire, served as a reminder of why drivers should scrape snow and ice off their windshield. According to CDL Life, police in Londonderry are looking for a box truck driver who failed to remove ice from their vehicle and injured a motorist.
The motorist was struck by an "ice missile" when a large chunk of ice fell off the box truck and landed on the victim's vehicle.
What is New Hampshire's Jessica's Law?
Jessica's Law is named after Jessica Smith, a 20-year-old girl who was killed in Peterborough, NH, in 1999, when a chunk of ice flew off a truck, causing another truck to veer and crash into Jessica's car. Three years after the accident, the New Hampshire legislature passed a law requiring all drivers to remove ice and snow from their vehicles before driving.
Under NH Rev Stat § 265:79-b, motorists who are found guilty of failing to remove ice or snow from the car windshield – or engaging in any other negligent acts – face a fine of between $250 and $500 for a first offense. For a second and any subsequent offense, the driver can be ordered to pay up to $1,000 in fines. Also, violation of the law can lead to the suspension of a driver's license.
Contact our New Hampshire car accident attorneys
Even though Jessica's Law requires all motorists to clear snow and ice from their vehicles, many drivers ignore this duty and endanger others on the road by driving cars covered in snow and ice.
If you have been injured in a crash caused by another driver's failure to remove ice or snow from their vehicle, do not hesitate to speak with our Manchester car accident attorneys. Schedule a consultation with our lawyers at the Law Office of Manning Zimmerman & Oliveira PLLC to discuss your options and help you recover damages from the negligent driver. Call at 603-624-7200 today.
Resource:
cdllife.com/2020/box-truck-driver-could-face-assault-charge-for-failing-to-clear-snow-injuring-motorist/