How to Obtain Compensation After a Pedestrian Accident in Manchester, New Hampshire?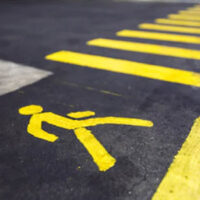 Many residents of Manchester and other New Hampshire cities prefer to commute to and from work on foot. While getting around a city on foot can be a healthier and more environmentally friendly alternative to driving a car, pedestrians are at a higher risk of injury than car drivers.
Often, pedestrian accidents are caused by negligence on the part of motorists. However, in some cases, pedestrians can be partially or fully to blame for the collision. If you were injured in a pedestrian accident in Manchester, speak with our attorneys at the Law Office of Manning Zimmerman & Oliveira PLLC to help you obtain compensation for your injury and damages.
Pedestrian Accident in Manchester, New Hampshire
Recently, a driver was charged with a crime after hitting and injuring two pedestrians in Manchester. According to WHDH, the collision occurred on the intersection of Harvard and Maple streets. A male pedestrian suffered life-threatening injuries to his head, while a female pedestrian sustained a non-critical injury after being struck by the vehicle. The car was driven by a 25-year-old man of Manchester who was taken into custody. The motorist who struck two pedestrians is facing a charge of driving while in a habitual offender status.
When Negligence Leads to a Pedestrian Accident
The following forms of negligence on the road increase the risk of pedestrian accidents:
Distracted driving. Taking your attention away from the road for even a few seconds means not seeing anything on the path of travel for hundreds of feet. This can lead to a pedestrian collision.
Drunk driving/Driving under the influence. Operating a vehicle while under the influence of alcohol or drugs impairs the driver's ability to operate the car in a safe manner, not to mention that alcohol impairment slows the driver's reaction time and impairs their judgment.
Speeding. Driving too fast for conditions increases the risk of colliding with a pedestrian because the driver may not be able to brake or steer in time to avoid hitting a person who is crossing the road.
If you were injured by a car while walking or crossing a road in Manchester or other parts of New Hampshire, you might be able to obtain compensation by pursuing a personal injury claim.
Seeking Compensation Following a Pedestrian Collision
Obtaining compensation after being hit by a car can be tricky because an injured pedestrian is required to prove that the motorist was negligent. In some car crashes involving pedestrians, the injured pedestrian may share some fault for the collision.
New Hampshire follows a doctrine of modified comparative negligence, which means an injured party's compensation is reduced by their own degree of fault. Under the doctrine of modified comparative negligence, a pedestrian whose negligence contributed to the accident may still obtain compensation unless their fault was greater than that of the other party.
For example, if a pedestrian was crossing the road while distracted, he may be found 30% responsible for the accident. Therefore, if the pedestrian's damages total $100,000, he will be able to recover only $70,000.
Do not hesitate to contact an experienced Manchester personal injury attorney if you were struck by a vehicle. Contact our lawyers at the Law Office of Manning Zimmerman & Oliveira PLLC to receive a consultation. Call at 603-624-7200 or complete this contact form.
https://www.manningzimmermanlaw.com/can-you-recover-damages-from-a-scuba-diving-company-after-an-accident/