Hip Injury After A Slip And Fall In New Hampshire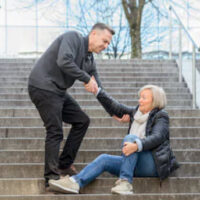 Hip injuries are especially common after slips and falls in New Hampshire. If you have fallen on someone else's property, you might feel that the property owner is to blame for your injuries. This is a valid concern, especially if your injury has resulted in significant medical bills, missed wages, and non-economic damages. You may be in desperate need of financial compensation for these damages, and you can obtain compensation for these losses by filing a personal injury lawsuit against the negligent property owner.
In order to do this, you'll need to get in touch with a qualified, experienced personal injury attorney at your earliest convenience. It's best to act quickly, as the statute of limitations may prevent you from filing a lawsuit if you wait too long. The sooner you team up with an attorney, the sooner you can start working towards the settlement you so desperately need and deserve
How Serious Are Hip Injuries? 
Hip injuries can be incredibly serious and life-altering, especially for older individuals. In some cases, hip injuries can permanently inhibit an individual's mobility, leaving them bed-ridden or confined to a wheelchair for the foreseeable future. A common hip injury is a hip fracture. These can be severe enough to warrant a hip replacement. These surgeries are expensive, and they come with their own share of risks and possible side effects.
In serious cases, hip injuries can lead to infection and even death. In fact, hip fractures and similar injuries are among the leading causes of death for elderly individuals in the United States. Even young people can suffer drastic consequences after suffering hip injuries. In many cases, these people can lose the ability to work for long periods of time. In other situations, they may be unable to engage in sports or other leisurely activities, such as walking their dogs, skiing, running, or other recreational activities.
Suing for a Hip Injury 
The good news is that you can hold negligent property owners accountable for these damages. Your economic damages include the financial consequences of your injury, such as medical expenses and missed wages. Non-economic damages include the emotional and mental consequences of these injuries, such as pain, depression, and loss of enjoyment of life.
You can also file a lawsuit on behalf of a loved one if they lose their life due to a slip and fall. This is called a "wrongful death lawsuit" For example, your elderly loved one might have slipped at a grocery store due to a slippery floor that was not properly cleaned. This fall may have resulted in a hip injury that later became infected, causing death.
Enlist the Help of a Qualified Attorney Today 
For help from a skilled Manchester personal injury lawyer, contact the Law Office of Manning Zimmerman & Oliveira PLLC. We've been helping injured victims for years, including those who have suffered hip injuries due to slips and falls. Negligent property owners must be held accountable for causing these injuries, and we can help you fight for your rights. Get in touch today, and we can immediately start working on an action plan to get you the settlement you need.
Resource:
pubmed.ncbi.nlm.nih.gov/31340186/