Attorney Anna Goulet Zimmerman Testifies on Insurance Legislation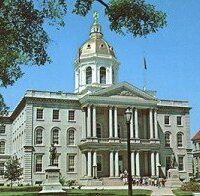 NH Legislature considers legislation to address uninsured motorist insurance unfairness
We purchase uninsured motorist coverage to protect ourselves. However, in some instances when there are multiple claimants, one might find their coverage reduced unfairly. This issue is complicated and misunderstood by many, but we wanted to fix this loophole so that everyone is entitled to receive their full damages. Attorney Anna Goulet Zimmerman was the catalyst behind the legislation, introduced by her local representative, Shannon Chandley of Amherst. On February 6, 2014, Attorney Anna Goulet Zimmerman testified before the House Committee on Commerce and Consumer Affairs.
This important legislation was signed into law on July 1, 2014 and went into effect on January 1, 2015.
Contact the New Hampshire injury lawyers at the Law Office of Manning Zimmerman & Oliveira PLLC
The New Hampshire injury attorneys at the Law Office of Manning Zimmerman & Oliveira PLLC would be pleased to discuss your matter with you and be your partner throughout the legal process. Our firm is experienced and prepared to deal with any situation that may arise. For a free consultation, please feel free to call us at 603-624-7200, send us an email to info@MZLawNH.com, or reach out to us using the "contact us" or chat feature on our website.
Experienced • Knowledgeable • Committed to Justice
The New Hampshire injury lawyers at the Law Office of Manning Zimmerman & Oliveira PLLC invite you to subscribe to our newsletter. You can also follow us on Twitter