Why Car Accident Photos Could Be Crucial to Your Accident Claim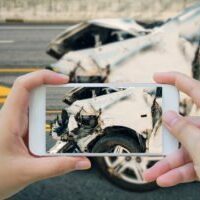 In the aftermath of a collision, good car accident photos can be crucial to building your personal injury case. In fact, they may make the difference between a successful insurance claim and a failed one. That way, you can avoid piling financial insult on top of your personal injuries.
We realize it may be tough to remember to take photos in such a stressful situation, but doing so will protect your interests in the long run.
At the Law Office of Manning Zimmerman & Oliveira PLLC, we're here to help. So let's do a quick walk-through of the process.
What Should I Include in My Car Accident Photos?
After everyone is safe and you've called the authorities, you can start taking your photos. Opt for both overview shots and close-ups of the details. You never know what might be important, so photograph everything you can think of, such as:
The surrounding area. This helps put the crash in context.
All nearby traffic signs, no matter how minor. Are they partially or fully concealed by anything, like foliage from trees or plants?
Any road construction signs and indicators.
Road conditions.
Weather conditions.
Skid marks.
Accident debris.
Any damaged structures, fences, utility poles, guard rails, etc.
Next, move on to photos of the vehicles themselves, and the people involved.
Take Photos From Multiple Angles
Start by taking multiple photos of the damage from as many angles as possible. Don't forget to include the inside of your vehicle. Shoot general photos of all the cars as well, even from angles showing no damage. Be sure to photograph the license plates and the signage showing the makes and models of all vehicles involved.
Take Photos of Your Injuries
As hard as it may be, photograph your own injuries as soon as possible, then photograph the injuries of your passengers. By the time you end up in court, the injuries will have partially or completely healed. Be aware that some injuries like bruises might not show up for hours or days, so take pictures of those when they appear.
Take Photos of Witnesses, as Well as the Other Driver
The witnesses. You or an investigator may need to speak to them later, and your injury attorney will want to know about them if the accident goes to trial. You may not remember them later, so get a record of who was on the scene. Photograph the police officers on the scene for the same reasons, as well as the other driver(s) and all passengers.
Make Sure the Correct Time and Date Are Set Up on Your Phone or Camera Beforehand
Take a many car accident photos as you can, even if that's far more than you think you'll need. If you're using a digital camera, set up the time- and date-stamp properly before you start. Your phone may or may not time-stamp the photos. If it does, the stamp will be based on your cell network's clock and should be quite accurate.
What If I'm Injured and Can't Take Photos?
Ask someone to do it for you. Provide detailed instructions. The more responsible and logical the person taking the car accident photos is, the better. If you're alone, you may have no other choice but to depend on the police photos taken, if any. Otherwise, you can return to the accident site later to photograph most of the things on the above list. You can photograph the damage to the vehicles wherever the vehicles end up.
We Can Help You Maximize Your Damages in a Car Crash Claim
New Hampshire doesn't require drivers to carry auto insurance (even Personal Injury Protection), though at-fault drivers have to prove their ability to meet New Hampshire Motor Vehicle Financial Responsibility Requirements. The minimum liability insurance coverage for New Hampshire is 25/50/25, or up to $25,000 per injured person with a maximum payment of $50,000, with a $25,000 maximum for damages.
Whatever insurance you have, it may not be sufficient to pay all your costs, especially medical bills. If not, call the Law Office of Manning Zimmerman & Oliveira PLLC at 603-624-7200 or by email at info@MZLawNH.com for a free consultation. We may also be contacted by using the "contact us" or chat feature on our website.
Experienced. Knowledgeable. Personally Committed to Justice.
The NH injury attorneys at the Law Office of Manning Zimmerman & Oliveira PLLC invite you to subscribe to our newsletter. You can also follow us on Twitter.